At four colleges and universities across the United States distinguished by their visionary women presidents, 40 college women are being cultivated as a cohort to be leaders of their generation in advancing civil discourse around  issues of equity and inclusion.  They are the vanguard of the national BOLD Women's Leadership Network, a cutting-edge leadership development and scholarship program for college women from diverse backgrounds.  Rutgers University—Newark serves as the lead collaborator among the four, which includes California State University, Fullerton, CA; Middlebury College, VT; and Smith College, MA. Each BOLD Scholar is awarded up to $25,000 in scholarships annually and provided with faculty mentorship, community-building and networking opportunities, an international travel experience, and leadership development. Working together in cohorts of 10, BOLD Scholars at each institution collaborate to produce transformative campus initiatives that positively impact change on their campuses and foster a culture of inclusion.
Envisioned and founded by Shirley M. Collado, Ph.D., Rutgers University—Newark, executive vice chancellor and chief operating officer, recently named ninth president of Ithaca College, the BOLD Women's Leadership Network is being generously funded by The Pussycat Foundation, a private foundation established to honor Helen Gurley Brown, the longtime editor of Cosmopolitan magazine. Upon graduation, each BOLD scholar will be eligible to apply for a "Helen Gurley Brown Fellowship" to fund employment at an organization that embodies BOLD's values.
"The vision of BOLD is a critical opportunity to impact and honor college women and give them the space to stand firm in their authentic selves as they develop as leaders, cultivate the courage to embrace difference and push for dialogue as a tool for growth, says Collado.  "In the spirit of Helen Gurley Brown's life, BOLD Scholars can be visionary in their efforts to transform themselves and their communities for the better."
The four BOLD campuses have launched the two-year pilot program that aims to sustain opportunities, relationships and experiences for these young women leaders to leverage their individual identities and strengthen their collective ability to effect positive social change on their campuses and in their broader communities.
"We need for our students, especially our young women, to be empowered change- makers connected to each other, to faculty mentors, and to other leaders," says Rutgers University-Newark Chancellor Nancy Cantor. "Fundamental building blocks need to be in place for them, of course, such as financial support, but it's critical for us to create intergenerational social capital networks in which they are cultivated as leaders—which is exactly what we aim to do in BOLD."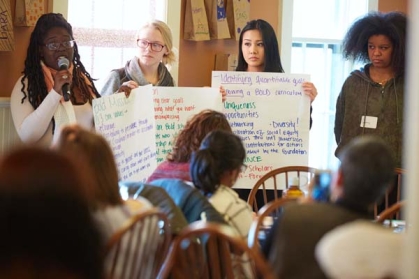 (left) January's community-building retreat brought the inaugural cohort of 40 students together for the first time to internalize their role as BOLD Scholars. PHOTO BY TODD BALFOUR, BALFOUR STUDIOS
The BOLD Women's Leadership Network currently has selected 30 junior women— 10 each at California State, Fullerton, Middlebury and Smith Colleges—and 10 first-year women at Rutgers University—Newark, where BOLD Scholars are also part of the Honors Living-Learning Community, a transformative college access and success program that also has an immersive approach.  This spring 2017, the BOLD women leaders are set to grow to 70, with Rutgers—Newark and Cal State Fullerton recruiting an additional 10 BOLD Scholars who are incoming transfer students from community colleges, and Smith and Middlebury Colleges each selecting an additional five BOLD Scholars from their current class of sophomore women. The new cohort will formally begin the BOLD program as rising juniors in Fall 2017.
"The BOLD Program ties two of Middlebury's biggest priorities—financial aid and cultivating leadership—into a single program," says Middlebury College President Laurie Patton. "In doing so, it provides student funding for young women who are ready and able to cultivate purpose and direction -- for themselves and others."
Nationally, BOLD Scholars will benefit from the cultivation of an intergenerational support network of BOLD students, staff, college administrators and presidents, as well as professional women leaders from diverse backgrounds and sectors. This community will gather for a summit in Fall 2017 focused on women's leadership and equity, and the Scholars will benefit from a lasting connection to this network of accomplished women.
"As a women's college, Smith is committed to developing and supporting strong leadership for women—so the program is a natural fit for our students, who are keenly committed to leadership, activism and social justice, "says Donna Lisker, vice president for campus life at Smith College. "We are proud that Helen Gurley Brown's papers are part of Smith's extensive women's history archive connecting us to her vision and influence. The BOLD program at Smith College will make Helen Gurley Brown's legacy more tangible—as our BOLD Scholars will courageously push boundaries, advocate for gender equity and institute change both in our local and greater communities."
"BOLD Scholars are dynamic, courageous and thoughtful student leaders who aim to make an impact on this campus, in their communities and around the world," says Mary Ann Villarreal, assistant vice president for strategic initiatives at California State University, Fullerton. "The ten extraordinary Titan women selected already personify these traits, and I am confident their participation in the program will further inspire them to 'Reach Higher' to achieve their academic goals and life dreams."
ABOUT BOLD
The BOLD Women's Leadership Network, which is supported by The Pussycat Foundation, is an intergenerational initiative that aims to develop courageous leadership among young women within higher education who possess the character and passion necessary to move discourse forward on some of our most challenging social issues.  The BOLD Network is committed to supporting young women from all backgrounds and especially those who have been significantly underrepresented in higher education in terms of socioeconomic class, race, ethnicity, religion, sexual orientation, gender identity, citizenship, and ability. BOLD Scholars are students who are female or identify as women, who possess exceptional leadership abilities, critical thinking skills, a passion for social equity, and the ability to facilitate challenging discourse.
Under the guidance of program founder Shirley M. Collado, Ph.D., executive vice chancellor and chief operating officer at Rutgers University—Newark, BOLD was established in July 2016 as a cross-institutional initiative across four colleges and universities: California State University, Fullerton; Middlebury College, VT; Smith College, Northampton, MA; and Rutgers University—Newark, NJ, which serves as the anchor partner.
For more information on BOLD please visit boldwomenlead.org.