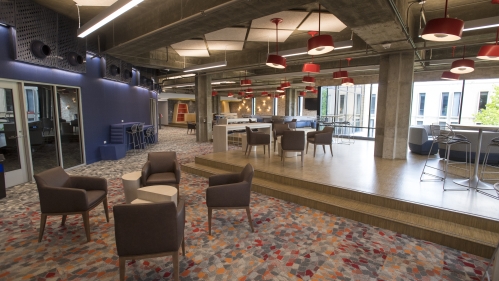 Weather and Campus Operating Status
Current Operating Status
October 21, 2022
UPDATE: Masks Not Required in Classrooms and Libraries
The Public Employment Relations Commission (PERC) ruled this week that, pending a further ruling, our decision to no longer require face coverings in indoor teaching spaces and libraries is in effect.  
As you may remember, our decision to eliminate the mask mandate was challenged and PERC initially held that the mandate should remain in place while it considered the challenge. The latest ruling from PERC changes its position and means that masks are no longer required in classrooms or libraries, pending any further ruling. 
Please know that we will inform you if there is a change necessitated by any further decision. 
Face coverings continue to be required in all clinical settings. Where masks are optional, we encourage all individuals who prefer to wear them to do so, and we fully respect that personal decision. 
Antonio M. Calcado  
Executive Vice President and Chief Operating Officer 
Accessing Weather Emergency Information for Rutgers University - Newark
The entire Rutgers community is encouraged to be prepared in the event of weather emergencies and potential campus closings/class cancellations/delayed openings.
Except in rare circumstances, notice of campus closing and delayed opening will be announced on the Rutgers University-Newark website by 5am, and evening class cancellations will be announced by 3pm.
Decisions in this regard are taken very seriously, focused first on the safety of our students, faculty, and staff, and informed by National Weather Service reports specially packaged for Rutgers University – Newark, as well as continual consultation with Rutgers leadership, emergency services officials across the state and region, and local public works officials.
Announcements can be accessed via our social media platforms. 
Facebook, Instagram, and Twitter
Radio Stations:
Television:
News 12 NJ Channel 12, Cablevision systems
WCBS  - Channel 2
WNBC  - Channel 4
COMCAST Subscribers - Channel 62
TIME WARNER Subscribers - Channel 12

Note:  radio and television stations carry simple announcements in their own words regarding school closings. For example, there may be an announcement that Rutgers University-Newark Campus is closed. Please keep in mind that this may only refer to class cancellations.  Always check the website and the facebook page for detailed information.
Rutgers University-Newark Business Offices and Neighboring Schools Information
The University's offices may remain open for business even if classes are delayed or cancelled. Also, we will do our utmost to include up-to-date information about the situations at the Rutgers-New Brunswick/Piscataway Campus, and the campuses of Essex County College, NJIT, and Rutgers Health Sciences-Newark.

Please refrain from calling the Rutgers Police regarding possible weather related delays, cancellations, or closures. During inclement weather conditions, it is vitally important that our campus safety offices and personnel are able to receive emergency calls. Also, please refrain from calling the radio and television stations. They will not give out information over the telephone anyway, and a large volume of calls can tie up their phone lines at critical times too. Instead, please call the information line at 973-353-1766.