We are deeply saddened to announce the passing of Dr. Robert Curvin, a distinguished alumnus, a visiting scholar and professor in Rutgers' Edward J. Bloustein School of Planning and Public Policy, a staunch friend of Rutgers University-Newark and a loyal son of Newark, a city he loved without reservation. He was 81.
Bob gained recognition as a civil rights leader and world-renowned expert on urban politics, economic development and social policy, as well as for his advocacy skills in breaking down the barriers of discrimination. A leader in the Congress of Racial Equality (CORE) who served as Newark chapter head and national vice-chair, Bob played a key role during the civil rebellion in Newark in 1967, articulating the platform of grievances that changed the landscape of decision-makers overseeing resources in the city and those holding political positions affecting the quality of life of its residents.
"I have to say Bob's death is a huge blow to me personally, to our University community and certainly to this city," says Chancellor Nancy Cantor. "In our midst was one of the country's most incisive social critics, deeply committed to issues of social justice and yet, he was so gentle and kind. He was someone we could all love and trust."
"Robert Curvin will be remembered as a Newark treasure and rightly so. He adored Newark. But in truth, Bob was an American treasure," recalls Roland Anglin, senior adviser to the chancellor and associate research professor and director, Joseph C. Cornwall Center for Metropolitan Studies. "Bob understood the need for opportunity and inclusion in a democracy and devoted his life to making that happen in our country. Bob will be missed, but his legacy is clear and without doubt: a nation better for his life and work."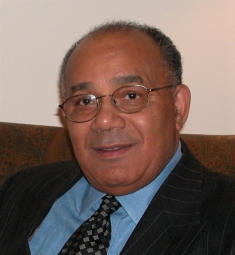 Bob, a resident of the Vailsburg section of Newark, was an author and a founder of Newark's New Community Corporation (one of the first of its kind). He devoted 12 years to the Ford Foundation before becoming president of the Greentree Foundation, a trust established by the late Mrs. John Hay Whitney to adapt the Whitneys' 400-acre Long Island estate into a retreat center for the United Nations and other international organizations.  
A former dean of the Milano School of Management and Urban Policy at New School University and a past director of the Revson Foundation, Bob was a trustee of the Fund for the City of New York, the Victoria Foundation, Beth Israel Hospital in Newark, New Jersey Performing Arts Center (NJPAC), Thirteen/WNET, and Princeton University.
While a member of the editorial board of The New York Times from 1978–84, Bob brought national attention to issues of social justice, equality, and homelessness. He coauthored Blackout Looting, about the violence and vandalism during the 1977 blackout in New York. An eyewitness to the events of 1967 in Newark, he chronicled Newark's history, politics, and culture in his 2014 book, Inside Newark: Decline, Rebellion, and the Search for Transformation, which has been described as "not just a scholarly book and not just a memoir, but a hybrid."
Bob was a double Rutgers alumnus, having earned his undergraduate degree in1960 from the Newark College of Arts and Sciences and his MSW from the School of Social Work in 1967. He received a PhD in political science from Princeton University in 1975.
Bob and his wife, Patricia, were chosen to receive the 2015 Ryan Award for Commitment to NJPAC and Leadership in the City of Newark at NJPAC's 20th Annual Spotlight Gala, on Oct. 3.
In addition to his widow, Bob is survived by a son, Dr. Frank Curvin; a daughter, Nicole; and beloved grandchildren.
Bob inspired the lives of so many. He will be deeply missed. Our thoughts are with his family and friends.