Journalism Professor Completes First-Ever Fellowship in Indentureship Studies at Cambridge University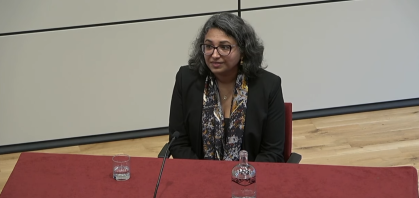 When Gaiutra Bahadur, coordinator of RU-N's Journalism program, set out to research her 2013 book Coolie Woman: The Odyssey of Indenture, she saw it as a labor of love.
The book, which was shortlisted for the Orwell Prize and received widespread acclaim, uses the story of Bahadur's great-grandmother to trace the lives of Indian women who became indentured laborers to Caribbean colonial plantations in the 19th and early 20th centuries.
In 2008, when Bahadur began research for the book, she was an investigative reporter poring through archives without an advance from a book publisher, diving into a discipline that had fallen through the cracks between Caribbean Studies and South Asian Studies and had yet to attract funding.
In the decade since Bahadur's groundbreaking work was published, the sands have gradually shifted. In May, she was named the first visiting fellow in Indentureship Studies at the University of Cambridge's Selwyn College in England. It is believed to be the first fellowship of its kind in the study of indentureship, the controversial system that replaced slavery in the British Empire.
"I was deeply honored to be asked to serve as the first fellow. I also felt a great sense of responsibility to pave the way for others, by being a good ambassador in the role,'' said Bahadur, who spent eight weeks in Cambridge.
According to Bahadur, who's great-grandmother Sujara was transported from Calcutta, India, to sugarcane plantations in British Guiana in 1903, the indenture system saw 2 million Indians moved across the globe. As semi-coerced workers subjected to harsh conditions, the indentured toiled in the same fields and lived in the same substandard housing as their enslaved predecessors and are considered the first Indians abroad in large numbers, the vanguard of the South Asian diaspora.
Yet, as Bahadur and other scholars note, their history had been largely forgotten, while narratives of indenture have for the most part been marginalized, seen as obscure or not profitable to tell.
Bahadur sees several reasons for this, including that the indentured were migrants who lacked power and resources. In addition, the U.K. has long held the abolition of slavery as key to its self-image as enlightened liberators, and indenture, the exploitative labor system that followed, stains that image. Finally, indenture has been harder to grapple with because it is more ambiguous than slavery in its context and consequences.
"It existed in a borderland between slavery and freedom, and that has made it harder to teach, to fund, to make a part of the structure of academic institutions," said Bahadur.
All of this adds to the importance of Bahadur's inaugural fellowship, which she's using in large part to research her next book, a history of the Anglo-American intervention into the politics of British Guiana on the eve of its decolonization in 1966, told through five sets of American characters and institutions, including the CIA, Black American exiles, immigrants to the U.S. from Guyana, and more recently, the oil giant Exxon.
For Bahadur, who emigrated to the U.S. from Guyana as a child, it's both "a Cold War story about America's emergence as a superpower, and a personal story about the shaping of my own identity, at the crossroads where the politics of my home country collided with those of my adopted country."
That Bahadur is once again combining personal stories with larger political and economic forces is no accident.
She began her career as a newspaper staff writer covering politics and government for the Austin American-Statesman and immigration, courts and the war in Iraq for the Philadelphia Inquirer—and was awarded a prestigious Neiman Fellowship in Journalism at Harvard in 2007-2008. Currently she is a contributor to The New York Times Book Review, The Washington Post, The New Republic, The Nation, The New York Review of Books and Dissent and writes for many other publications across the globe.
She was nominated for the Cambridge fellowship by British Guyanese poet and novelist David Dabydeen, a pioneer in the field of indenture studies who was a driving force behind the fellowship's creation.
Dabydeen is an alumnus as well as an honorary fellow of Selwyn College and an emeritus professor at the Centre for Caribbean Studies at the University of Warwick. Bahadur had read his work for decades and built on it while doing her own research to push the discipline forward.
After Bahadur's nomination, the college's governing council, which consists of its 60 full-time faculty and research fellows, voted to approve her appointment this spring.
"It meant a great deal to me that Professor Dabydeen thought highly of my own contributions to excavating this history and telling it creatively," said Bahadur. "This first fellowship was an experiment for the college, and it meant a great deal to me that David had faith in my ability to make it a success and to make a compelling case for the study of indenture.''
Bahudaar's work as an independent scholar in the humanities has been recognized and supported with fellowships from the W.E.B. Du Bois Institute at Harvard, the Schomburg Center for Research in Black Culture at the New York Public Library, the Society of Authors in London, and the Eccles Centre for American Studies at the British Library.
She is extremely grateful for the support she has received in pursuing her work on indenture.
"I'd like to thank David Dabydeen for the opportunity and for his faith in entrusting me with the inaugural role, Roger Mosey and the fellows of Selwyn College for their warm reception and recognition of a forgotten history, and SASN Dean Mattis and my chair, Professor Jack Lynch, for being as supportive as they are of my work in the journalism program as well as outside of it," she said.