Study Finds Newark Students Interested in College But Need More Info on Financial Aid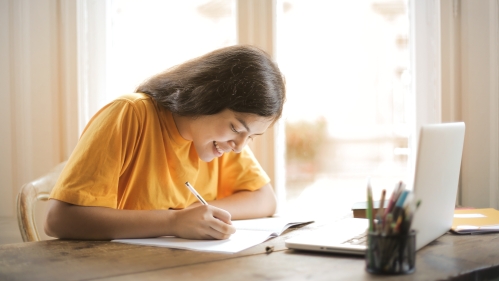 A Rutgers-Newark case study that could have statewide implications revealed that interest in college is high among families in Newark, but many need more information on state financial aid programs that could make it affordable. 
 
Conducted by Rutgers-Newark for the university's New Jersey State Policy Lab, the study explored public knowledge of two programs that make postsecondary education more accessible. The Community College Opportunity Grant (CCOG), created in 2019, provides free community college tuition for students whose families earn less than $65,000 a year, while the  Garden State Guarantee (GSG), established in 2022, funds the final two years of four-year college completely or at reduced cost depending on income levels.  
 
The study, titled Perceptions of Financial Aid Options in Newark also examined obstacles and incentives to completing the Free Application for Federal Student Aid (FAFSA,) which is the first step in receiving federal and state aid and necessary for CCOG and GSG funding. 
 
"The good thing is that across the board, from everyone we spoke with, no matter what sectors they came from, there is an interest and aspiration to have post-secondary opportunities, including college, vocational training or apprenticeships,'' said Robyn Ince, Executive Director of the Newark City of Learning Collaborative at Rutgers-Newark (NCLC) which works to increase the number of  residents — both youth and adults — who earn a college degree or a credential after high school. 
 
Researchers from NCLC and the Joseph C. Cornwall Center for Metropolitan Studies, part of the School of Public Affairs and Administration at Rutgers-Newark, partnered on the study.   
 
According to their findings, information about the programs isn't reaching enough students and families. Many, particularly, first generation students,  relied on friends and family members who were already famiiar with the college application process.  
 
"There are people who have aspirations and aren't plugged in or sure where to go," said Elisabeth Kim, a former postdoctoral associate at the Center who is now Assistant Professor of Education and Leadership at California State University, Monterey Bay and worked on the study. 
 
Although colleges make outreach efforts, most students need information earlier. High school counselors often target those who are perceived as college-bound, when many others could benefit, and don't provide information until junior or senior year, according to the study. There was also little information about the state financial aid plans on social media, where students spend much of their time. 
 
One student who was interviewed mentioned a helpful TikTok video where a girl shared financial aid terms in Spanish. Others said they can't always attend information sessions during the day and preferred learning about opportunities through social media posts, which they can pass along to friends and family.  
 
Equipping districts to provide information before high school could help, in addition to partnering with faith-based groups and community organizations, the report recommended. The creation of social media content, bilingual campaigns and peer mentoring groups was also suggested.  
 
For the study, researchers interviewed 37 stakeholders including high school guidance counselors, parents, high school and college students, along with college and university administrators from a mix of public and not-for-profit two- and four-year colleges and universities. 
 
Although the study focused on Newark, the recommendations could be applied statewide, said Ince.   
 
"What we learned about what works and what doesn't could help families across the state and even nationwide,'' she said.  
 
Despite high secondary graduation rates, persistence to and through college is still relatively low in Newark.
According to the U.S. Census American Community Survey, in 2021, 23 percent of those 25 and older in Newark either an associate's degree or bachelor's degree, compared to 50 percent of state residents, although there has been a 4 percent increase since 2019. 
 
One reason Newark was chosen for the case study is because in the 2021-2022 school year, the school board mandated completion of the FAFSA in order to graduate unless a family specifically opted out, a requirement that was also successfully instituted in the state of Louisiana. Completion rates rose to 62 percent last year, surpassing the national average.  
 
Still, students and families often have trouble with the time-consuming and complicated format of the FAFSA while others are hesitant to provide financial information or reveal immigration status, the report found.  
 
Others don't realize how important the FAFSA is for obtaining aid, including help with tuition for private colleges and universities, said Ince. 
 
"That money can't be tapped unless people complete the FAFSA,'' said Ince. "We thought it was really critical that people have that understanding." 
 
Some students who attended four-year colleges starting freshmen year said they might have chosen a different path had they known about the CCOG and GSG programs, which would have spared them student loan debt. "It sparked some reflection. Some said if they realized that the first two years are mostly required courses, which you can take at a community college and then focus on a major once you transfer to a four-year school, they might have reconsidered,'' said Bernie Lombardi, a postdoctoral associate with NCLC the collaborative.  
 
Ince hopes the study results pave the way for more a more in-depth look at access to financial aid information. 
 
"These findings are ripe for future research,'' she said.