Six RU-N students participated in the Innovation Alliance for Social Enterprise Development fellowship. Back row (left to right): Dan DeNose, Sarah Ford, Rebecca Freier, and Mariam Rashid. Front Row (left to right): Breanna Datesman and Michelle Bischoff
Six Rutgers University–Newark (RU–N) graduate students recently returned from Cape Town, South Africa, where they researched topics ranging from sanitation systems to the improvement of STEM (science, technology, engineering, and mathematics) education for youth. During their two-month fellowship, the students collaborated with The Community Chest of the Western Cape, a South African organization devoted to social change and community development.
"I feel that I must go back," said Dan DeNose, a student at the School of Public Affairs and Administration (SPAA). "It was a chapter that hasn't been finished in my book of life, and I think it was the beginning of a relationship that is going to last a lifetime."
The Graduate School–Newark facilitated the fellowship with a grant from the United States Agency for International Development (USAID), in partnership with the Rutgers Center for Global Advancement and International Affairs (GAIA), as part of its Global Fellowship Program.
"Rutgers was fortunate to work with the USAID program, which places graduate students in different projects overseas, particularly development projects that might be able to link research with development needs," said Kyle Farmbry, dean of the Graduate School.
Farmbry drew upon longstanding ties with the Community Chest to create the Innovation Alliance for Social Enterprise Development fellowship, designed to translate students' research into potentially commercial applications and innovative solutions for social change. Funding for the students was divided evenly between USAID and the Graduate School to cover students' travel, accommodations, and living expenses. 
Prior to their trip, students worked with Community Chest representatives to develop projects that matched students' research interests with areas of need in Cape Town. Founded in 1928, the Community Chest engages in public and private partnerships to strengthen South African communities through increased access to health, education, and employment opportunities. Upon the students' arrival, the Community Chest offered guidance as they integrated with the community, traveled to schools and local centers for interviews, and shared in the lives and experiences of locals while gathering data.
DeNose, of Newark, N.J., went to South Africa to analyze the strengths and shortcomings in the existing STEM education curriculum and find ways to enhance STEM education for children in economically disadvantaged areas.
"Going there, I thought I was going to have an impact on people, I'm there to do research and I'm there to change this community. But the first week, I began to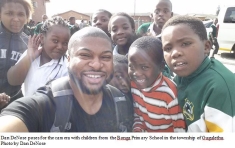 understand that the impact that I thought I was having on folks was the other way around," DeNose said. "They're impacting me. If there could be any measurement of what I'm doing for them, it can't even compare to what they're doing for me."
In his free time, DeNose wandered the streets, striking up conversations with strangers and making connections he could not have imagined, as people shared stories of poverty, community, and memories of the brutality endured under South Africa's apartheid government. His friendly approach led to an invitation from a local disc jockey to attend a traditional circumcision ceremony and a chance encounter with a One Republic band member who gave him VIP tickets to a Cape Town concert.
Not every student had DeNose's good fortune of forging bonds so easily.
Sarah Ford's research focused on the resources available to survivors of domestic violence, rape, and sexual assault, which required her to contact women's shelters to speak with some of society's most vulnerable members. It took weeks before she gained their trust for interviews.
Ford said that the interviews revealed a pattern of women at the mercy of a patriarchy that often fails to acknowledge rape and domestic violence as a social ill. She noted that the European Union and other entities have provided money or established hotlines, but "without a cultural shift to recognize abuse and help victims, gender-based violence will continue."
Ford, of North Apollo, Pa., stated that her experience was rewarding, as the women she interviewed expressed feelings of power and dignity by sharing their stories.
"One woman was contemplating suicide, and she said that [the study] was giving her the power to keep going because she was able to take control of her situation," Ford recalled.
The students are now in their final phase of the fellowship, and have submitted reports with their findings and proposals for the Community Chest. Mariam Rashid, a graduate fellow at the Eagleton Institute of Politics, studied current conditions of sanitation in South Africa.
"The effects of apartheid are still being felt in some townships when addressing sanitation," Rashid, of Bridgewater, N.J., said. "Although access to water has significantly improved, sanitation has not."
Her research highlighted problems including a lack of access to hygienic toilets, disincentives to use public toilets (such as women's fear of using toilets after dark), and the increased health risks of defecating in fields and buckets. Rashid proposed the expansion of a program called The Youth Brigade, which teaches engineering and construction skills to young adults. She suggested that by offering the program to older adults, South Africa can create a skilled workforce that can improve the sanitation infrastructure, while simultaneously tackling the high unemployment rate.
Through their research, the students were able to gain insight, not only into the social, economic, and political issues in Cape Town, but into their own strengths and shortcomings, as well as the challenges of comprehensive research.
SPAA student Breanna Datesman, of Perkasie, Pa., said that the program helped her become a more thorough and experienced researcher. Datesman studied sex education in schools and used the experience to refine her research methods for future studies.
Datesman said that she is now more well-rounded as a graduate student, and emphasized the program's value for future participants.
"I really hope that the program continues, because I think it's a good experience to do firsthand research," Datesman said. "Being thrown into a new environment and finding a way to do research in such a short time period forces you to learn the process of research, and you learn from your mistakes as well as your successes."
_____________________________________________________________________________
The Innovation Alliance for Social Enterprise Development fellowship is a three-year grant that will provide funding for 30 students under the Global Fellowship Program. Students interested in learning more about study abroad opportunities or applying to the Global Fellowship Program should visit http://global.rutgers.edu/programs/rutgers-usaid-global-fellowships.