Rutgers is Part of NSF-funded Consortium to Advance Photonics Research and Workforce Development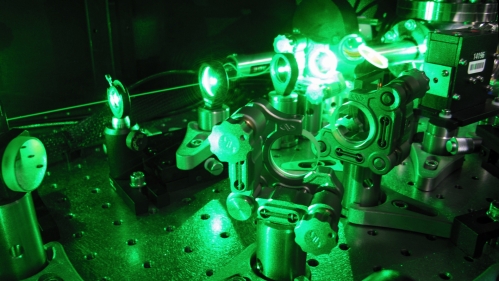 Rutgers is part of a new federally funded regional collaboration to drive economic and technological advancements in photonics, a field involving the use of light in areas as diverse as medicine, communications and defense, the National Science Foundation (NSF) announced yesterday.
The consortium, which includes researchers from Rutgers-Newark and Rutgers-New Brunswick, has been awarded a development grant from the NSF's Regional Innovation Economic Engine consortium, led by Princeton University's Craig B. Arnold, principal investigator, and co-led by Rowan University, with partners throughout New Jersey and neighboring states Delaware, Pennsylvania and New York. 
Photonics is the science and technology of generating, detecting, and using light in inventions that can also include self-driving cars, fiberoptics and precision manufacturing, among other uses. It is an area of enormous growth and global economic impact.  
The consortium, called Advancing Photonics Technologies—NJ-DE-PA-NY, includes universities and community colleges, leading photonics companies, economic and workforce development programs, technology accelerators and incubators that help transition research into startup companies. 
The development grant enables the participating institutions to plan a diverse and inclusive research and innovation ecosystem focused on photonics, facilitate translation of scientific breakthroughs from research labs to industry, and establish a robust pipeline for jobs creation and workforce development.
Rutgers participation in the regional consortium is led by Piotr Piotrowiak, Senior Vice Chancellor for Research and Professor of Chemistry in the School of Arts and Sciences Newark, and Deirdre O'Carroll, Graduate Program Director and Associate Professor of Materials Science and Engineering, Rutgers–New Brunswick, School of Engineering. 
Piotrowiak and O'Carroll previously collaborated on photonics research, most notably as co-leads on a large project co-sponsored by the NSF and the Japan Society for the Promotion of Science, which spanned two campuses of Rutgers University and two campuses of the Tokyo Institute of Technology. They are excited to anchor the Rutgers component of the consortium and look forward to bringing on board researchers from multiple departments and campuses of the university. 
"This is a tremendous opportunity to enhance the training for students across Rutgers and put them on track for successful careers in one of the most important technology areas of 21st century," says Piotrowiak. "It is particularly important for Newark, which serves student populations significantly underrepresented in high-tech industries such as photonics. We see this as an excellent platform to advance the job market competitiveness our students, our research programs and our region." 
Rutgers–Newark will bring to the consortium advanced laser resources and expertise to study processes faster than one trillionth of a second. Such capabilities and knowledge are necessary to monitor, understand, and optimize processes such as the generation of electricity in solar panel material, or the emission of light by individual pixels of the increasingly ubiquitous OLED and QLED smart phone and TV screens. Rutgers-Newark will also contribute to the design, preparation and characterization of new photonic materials.
The Rutgers-Newark effort will also include Rutgers Business School's Newark-based Center for Urban Entrepreneurship (CUEED) and the Collaborative for Technology Entrepreneurship and Commercialization (CTEC), which foster socially conscious business ownership. The effort will help provide technical training and industrial internship opportunities enabed by the collaborative and will engage groups who have been historically undereperesented in STEM fields.
Rutgers – New Brunswick will identify and foster research collaborations between engineers and scientists from different disciplines and from different sectors who develop light-based technologies. O'Carroll, whose research expertise extends to photonic materials and organic semiconductor optoelectronic devices, will be serving on the award's Leadership Committee and will co-lead the Photonics Research and Development Working Group with Lehigh University professor Hianshu Jian. 
"We will be responsible during the development award period to crystallize the strategic planning around the research effort that would be part of a future robust regional engine," said O'Carroll.
"It's an exciting time to be part of this consortium. Not only will many new technologies be driven by advanced photonic materials and devices, but as a highly interdisciplinary field, photonics brings together people from diverse disciplines and sectors," said O'Carroll. "Working together on developing new technologies will catalyze partnerships and collaborations to lay the groundwork for a vibrant photonics ecosystem and foster a high-tech workforce here in New Jersey and the region."
The consortium is among approximately 40 teams across the nation selected to receive an NSF Engines Development Awards, which provide up to two years of funding toward the planning to create economic, societal and technological opportunities for their regions. The awards enable the teams to prepare competitive proposals for becoming future NSF Engines, which will have the opportunity to receive up to $160 million to implement their plans.
"These NSF Engines Development Awards lay the foundation for emerging hubs of innovation and potential future NSF Engines," said NSF Director Sethuraman Panchanathan. "They will build robust regional partnerships rooted in scientific and technological innovation in every part of our nation. Through these planning awards, NSF is seeding the future for in-place innovation in communities and to grow their regional economies through research and partnerships.'' 
Governor Phil Murphy added, "Photonics is one of the unseen gems of the New Jersey economy, providing thousands of good-paying jobs and leading global innovation.''
*******************************
Partners in the collaboration include the following institutions:
•    Universities and colleges: Princeton University (lead institution), Rowan University (co-lead), Delaware State University, Lehigh University, New Jersey Institute of Technology, Penn State University, Rowan College of South Jersey, Rutgers University-Newark, Rutgers University–New Brusnwick, Stevens Institute of Technology, Sussex County Community College and University of Delaware
•    Companies: Edmund Optics, Go!Foton, Hamamatsu, Hellma USA, Horiba Scientific, Kearfott Corporation, Metrohm Spectro, Nokia Bell Labs, Nubis Communications, OFS and Thorlabs
•    State economic development agencies: New Jersey Commission on Science, Innovation and Technology; New Jersey Council of County Vocational-Technical Schools; New Jersey Economic Development Authority; New Jersey Manufacturing Extension Program
•    Entrepreneurial incubators and accelerators: Material Impact, Princeton Innovation Center BioLabs, SOSV (HAX Accelerator), VentureWell
View a map of the NSF Engines Development Awards. More information can be found on the NSF Engines program website.  NSF media requests: media@nsf.gov 
Rutgers media requests: 
Carrie Stetler
cjs281@rutgers.edu