Rutgers-Newark Releases Series of Reports on School Segregation, Focusing on Strategies To Help Students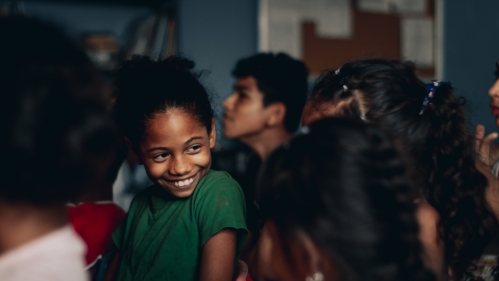 Researchers at Rutgers-Newark have spent the past year drilling down to explore the impact of school segregation in New Jersey—which has one of the most segregated school systems in the nation--in an effort to find solutions that will help today's students succeed.
At the Joseph C. Cornwall Center for Metropolitan Studies, the goal is to move beyond showing that problems exist and promote strategies that have proven successful in economically and racially segregated school districts.
"The field has been overly dominated by a fixation on failure," said Charles Payne, the center's director. "We think it's much more powerful and, and more productive, to look at the places where kids who are traditionally excluded do well. How does that happen?"
The center has released four reports on educational inequality, with a focus on school discipline, STEM education, and college readiness. Called the New Jersey Statewide Education Equity Series, more reports will be published in the months ahead, with the aim of highlighting disparities and identifying opportunities for improvement. 
New Jersey has the sixth most segregated schools in America for Black students and seventh for Hispanic students, according to previous research. Among the center's findings are that in racially and economically segregated schools, students are 30 to 40 percent less likely to have access to high-level courses, like AP science and math classes. 
But reports, including research supported by the New Jersey State Policy Lab, have also featured success stories, such as districts that enroll more Black and Latinx students in advanced course or offer high-level math and science classes before high school.
"We're focused on change and change that can happen fairly quickly,'' said Vandeen Campbell, the center's associate director.  
In an overview titled "Segregated Schooling in New Jersey: The Distribution of Opportunities to learn by Race, Ethnicity and Class" and released this year, the center provided a detailed look at state patterns of segregation, including gaps in achievement and resources. 
The report tracked the state's 600-plus public-school districts, drawing data from the New Jersey Department of Education's School Performance Reports from 2016 through 2019. It found that 32 percent of the state's children–nearly 270,000 –attend schools that are racially and economically segregated, and the numbers are rising.
Reports in progress will include an overview of Latinx achievement, the first in a new series examining achievement trends among traditionally underserved groups and a deeper look at National Assessment of Educational Progress (NAEP) scores in the state. Upcoming reports will also examine pathways to high school graduation and college enrollment and how they can be strengthened. An updated report on discipline disparities is planned as well.  
Among the center's recommendations for mitigating disparities in discipline call for teacher training to remediate bias surrounding student behavior. It also suggested restorative interventions, which focus on positive changes to behavior rather than punishment.  
In partnership with the State Policy Lab, the center is also embarking on a study of schools in the state that did relatively well during the pandemic and the lessons they may hold for others.  
The approach reflects the Cornwall Center's hope of finding practical strategies that can be duplicated and incorporated into state policy. "We want it to matter beyond the walls of the academy,'' said Payne. "We focus on a relatively small handful of interventions, on things that can have a real impact on real issues.''
That's why two of the reports explore the best ways to prepare students for careers in math and science related fields and ensuring their access to higher education.
"We wanted to look at opportunities to enter careers that have status and higher wages. The gaps are wide, but we want to contribute to creating a world where Black and Hispanic kids are competitive,'' said  Campbell. 
"Post-secondary education is another area where there are huge gaps,'' she added. "Advanced courses, college readiness, holding the system to higher expectations—it means we want people to believe that all students can and should have access to these opportunities." 
 
While deep disparities exist and children struggle as a result, some districts are "positive outliers,'' likely a result of district policies and culture, said Payne. In schools, such as Dover High School in Morris County, there were higher numbers of students enrolled in advanced math and science courses. Passaic exceeded the state average by enrolling 45% of students in college courses. 
The New Jersey Statewide Education Equity Series shows that when expectations are high--and districts create a climate to realize expectations--it can make a difference. 
"The exceptions are important because we're trying to push against the narrative that these kids can't do any better because of where they come from,'' said Payne.
But Payne cautions that outliers shouldn't be seen as evidence that segregation isn't a  problem. 
"At its root, segregation is a reflection of how kids are valued. You segregate some kids away from resource flows and put some kids in the path of resource flows,'' he said.
He added,  "The point we're trying to make is that it's really difficult to believe that some of the enormous disparities we see–30 to 40 percentage point differences–are a function of the culture of the child and family. Those are a result of the policies and priorities the districts are following."