Rutgers-Newark Receives $7.4 million Federal Grant to Continue Long-Term Study on Alzheimer's Risks in African Americans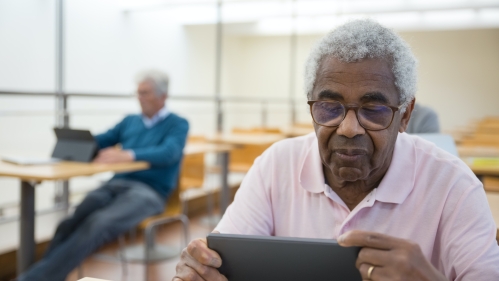 A ground-breaking long-term study of Alzheimer's disease in African Americans being conducted by Rutgers University-Newark will double in size thanks to a new five-year $7.4 million grant from the National Institute on Aging, part of the federal National Institutes of Health. 
This study, unique in the nation and known as "Pathways to Healthy Aging in African Americans," examines the interaction between genetics, environment, and lifestyle in the development of Alzheimer's Disease among African Americans. Since 2016, it has followed the health of more than 500 Newark-area residents ages 60 and older who were cognitively healthy when they joined the study.
"We are very excited that seven years after we began this program, it has grown in the number of older African-American participants, community partners, and collaborators from around the world, so that we have now become a major center for the study of aging and Alzheimer's disease in African Americans," said Mark Gluck, a Rutgers-Newark professor of Neuroscience, who heads the Aging & Brain Health Alliance, which has been conducting the ongoing study. 
African Americans face a one-two punch when it comes to Alzheimer's Disease: They are more than twice as likely to develop it, yet there are few studies focusing exclusively on them. While many of the genetic factors examined at Rutgers-Newark are unique to people of African descent, broader findings may end up helpful to other demographics as well, says Gluck. 
During the Pathways project's first five years, it accomplished several goals. It showed that quality sleep appears to protect against damage posed by a high-risk genetic variant seen predominantly in African Americans.
It also looked at the role cardio-aerobic exercise plays in forestalling or preventing the development of Alzheimer's Disease. Through dance-based classes at local churches, the study explored the role of individual genetics in determining variations in brain health benefits drawn from exercise.
The study established a unique behavioral test that can detect cognitive deficits years before memory deficits appear in Alzheimer's disease. The test uses colors and shapes instead of words, so participants can be properly evaluated no matter their reading level.  All told, the team produced 20 published papers on new findings.
The new grant will allow the Pathways research team to embark on several new research topics including a deeper look at the role of sex differences in the development of Alzheimer's, which will address questions such as why one high-risk genetic variant, called ABCA7-80, is especially detrimental to African American men. 
The Rutgers team will increase efforts to measure the impact a neighborhood might have on a residents' risk of developing Alzheimer's, exploring factors such as crime rates and proximity to parks. It will partner with the City of Newark and the Newark Public Safety Collaborative, a Rutgers University-Newark School of Criminal Justice program.
With a new state-of-the-art PRISMA brain imaging magnet at the Rutgers University Brain Imaging Center (RUBIC) in Newark,  investigators will be able to see participant's brain function in higher resolution than in the past, helping them pinpoint exactly where and how Alzheimer's first begins in the brain.
New blood tests have been added that will allow researchers to measure evidence of the deterioration of brain cells in very early Alzheimer's disease, long before later memory deficits appear.
With new funding, the Rutgers team hopes to expand its efforts to recruit more African American men. Although it currently collaborates with over 40 local churches, church attendance among African-Americans is heavily female. The team started brain health programming with several local mosques, where attendance is predominantly male.  It also holds an annual classic car show and men's health fair and schedules programs for veterans and local Black fraternity chapters.  
A long-standing relationship with the Newark Housing Authority and other federally subsidized housing ensures that the study enrolls a diverse range of people from all economic backgrounds. 
Seeing how participation has enriched their lives, study participants often act as ambassadors for the "Pathways to Healthy Aging in African Americans" program, Gluck said.  Almost one-third of new enrollees come via word-of-mouth from current participants who convince their friends to sign up, according to Gluck. 
Gluck's team includes  broad interdisciplinary participation from across the university's four campuses, representing departments of neuroscience, psychology, criminal justice, neurology, public health, and immunology.