Rutgers-Newark Receives $4.7 Million Grant to Study Exercise and Alzheimer's Risk in African Americans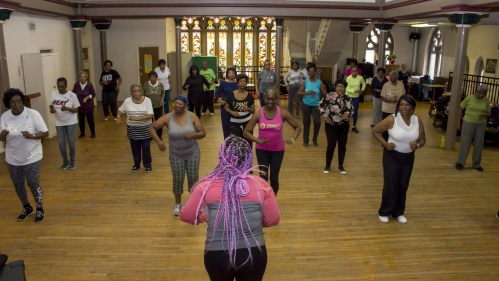 A five-year federal grant awarded to Rutgers University-Newark will soon begin examining whether something as simple as rigorous exercise can help stave off Alzheimer's disease in African Americans.
The funding, from the National Institute on Aging (NIA), part of the National Institutes of Health (NIH), is expected to total $4.7 million.
"We know that exercise is good for us in many ways, but to actually be able to capture quantitatively what's changing in the wiring of the brain following exercise is really exciting," said Mark A. Gluck, a professor of Neuroscience and Public Health and director of the Aging & Brain Health Alliance at Rutgers-Newark's Center for Molecular & Behavioral Neuroscience (CMBN).
African Americans face a one-two punch when it comes to Alzheimer's: They are more than twice as likely to develop the disease, yet are less likely to have been studied, Gluck said.
That means that African Americans are at risk for missing out on modern health care's push to offer "personalized medicine," or treatment tailored to the biochemistry of the individual patient.
"We need to know more about African American health — but we actually know far too little," Gluck said.
The five-year clinical trial builds on the center's findings from a smaller pilot study that suggested cardio exercise improves brain connectivity, but the benefits might be less in people who carry a particular genetic variation. 
"Neuroprotective benefits are not uniform across all individuals, so we need to start looking at variations that may differentiate individuals who may benefit from certain types of exercise, versus those who don't render the same benefit," said Bernadette A. Fausto, PhD, a post-doctoral fellow and co-investigator for the grant.
That earlier study, funded by the New Jersey Department of Health's Office of Minority and Multicultural Health (OMMH), had its limits: It examined a smaller pool of people, was of shorter duration, and didn't have a companion "control group" of similar participants who did no aerobic workout.
This latest grant is part of ongoing efforts by NIH to find behavioral ways to prevent Alzheimer's in addition to looking for medications to treat it.
"There is a growing body of research suggesting that lifestyle interventions, including exercise, can help maintain cognitive health. However, people may not experience uniform benefits from identical exercise regimens," said Kristina McLinden, Ph.D., program director at NIA. "This trial is designed to help lay the groundwork for prescribing personalized, culturally tailored exercise programs to African Americans with varying Alzheimer's disease risk."
In the Rutgers study, 280 participants will be randomly assigned to one of two groups, with each group undertaking a different form of exercise. One group will do cardio dance, while the other will be led in exercises that improve strength, flexibility, and balance. Everyone in the study will benefit in some way regardless of which group they are in. 
The classes will take place at two nearby churches: Messiah Baptist Church in East Orange, and Bethany Baptist Church in Newark. All participants will wear heart monitors during the hour-long classes.
Before those sessions start, researchers will gather baseline saliva and blood samples from each person, assess their overall health, test their cognition, and examine their brain patterns during a 10-minute MRI session.
At the end of the six months, those assessments will be repeated to see what, if anything, has changed, and whether the two groups show markedly different results.  
Rutgers-Newark is a natural home for this study because it houses RUBIC, the Rutgers University Brain Imaging Center, which serves researchers from all the Rutgers campuses.
Because the genetic variant being examined is fairly common — present in roughly one out of every four people— and not unique to African Americans, the study's findings may be applicable to all races, Gluck said.
The study's ultimate goal is to optimize the impact of a low-cost, non-pharmaceutical way to improve brain health based on one's individual genetic make-up. In other words, true "personalized medicine" in the form of an exercise prescription tailored to each patient, Gluck said.
"People with the risk variant can exercise lots and lots, but they get relatively little brain benefit, both cognitively and in terms of brain network," he said, "What that may mean is not that they should stop exercising, but that instead of exercising three times a week, they may need to be doing it even more often.
The exercise classes are scheduled to start this month.