The Alumni Engagement offices at Rutgers University–Newark and Rutgers University–Camden launched a friendly weeklong competition to see which could get the most alumni and friends to donate money or food to their respective food pantries, PantryRun in Newark and Raptor Pantry in Camden, from Nov. 10-17. The results of the Raiders vs. Raptors Food Drive Challenge are in!
For their fundraising efforts, each alumni team got more than 100 generous donors to contribute more than $6,000 to its cause. The Rutgers-Newark Raiders garnered 105 donors and raised $6,830. The Rutgers-Camden Raptors raised $6,110 with 116 donors.
"Since the competition measured the number of donors, Camden won…[A]s a result, their win unlocked an additional $1,000 for the Raptor Pantry," shared Alexandra Brown, special projects coordinator for the Rutgers University Alumni Association and the Alumni Center at Rutgers-Newark.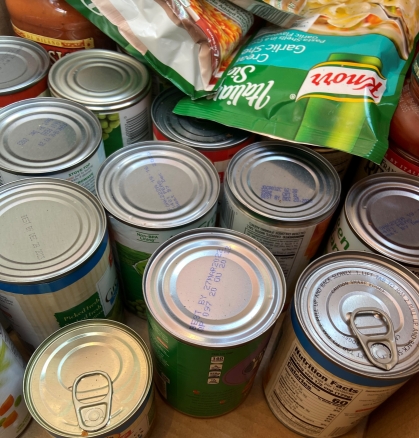 "PantryRUN and the Raptor Pantry provide reliable access to groceries and toiletries and connect students with needed campus services. Even though students are learning remotely, there's a high demand at the pantries for groceries and support services this semester," stated the Rutgers University Foundation.
The Raiders vs. Raptors Food Drive Challenge was inspired by the university's Charter Day, which commemorates the day on which William Franklin, New Jersey's last Colonial governor, signed the charter that established Queen's College, the forerunner of Rutgers University, in 1766. In recent years, Rutgers has celebrated Charter Day as a day of service.
The Raiders vs. Raptors Food Drive Challenge is one of many endeavors in which alumni can support students. "[O]ther ways alumni can get engaged in student-facing funding opportunities [include] emergency funds and Scarlet Promise Grants," noted Terranze Griffin, director of alumni engagement at Rutgers University–Newark.
Inspired by a Rutgers Board of Trustees initiative, Scarlet Promise Grants provide need-based aid to Rutgers students as part of their financial aid packages and, in some cases, to relieve short-term, temporary financial hardship. The grants are funded through annual university budgeting and philanthropic resources.
Learn more about funding opportunities at Rutgers.
Visit PantryRun and Raptor Pantry for more information about each pantry.
Read more about the Rutgers University Alumni Association.