RU-N Grad and Public Policy Leader Richard Roper Inducted into Rutgers Hall of Distinguished Alumni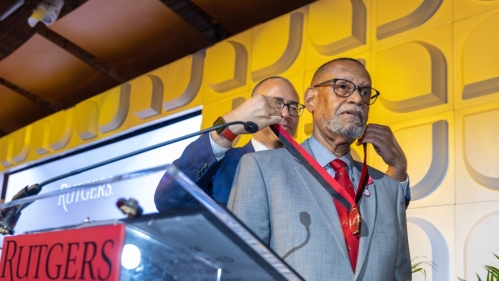 Richard Roper, whose career as a prominent public policy leader included directing planning for the Port Authority of New York and New Jersey, was inducted into Rutgers University's Hall of Distinguished Alumni earlier this month.
Induction to the hall is the highest honor given to Rutgers graduates. Roper, a Maplewood, New Jersey resident who earned a degree in economics from Rutgers University–Newark in 1968, has had significant impact at Rutgers and in the city of Newark, in New Jersey, and beyond over many years.
"Rutgers–Newark was where I developed a sense of responsibility to my community, fine-tuned my leadership skills, recognized my intellectual strengths, and acknowledged my limitations," Roper said during his acceptance speech after a video about him aired.
Roper's involvement at Rutgers has been vast, dating back to when he was a student and cofounded the Black Organization of Students, a group that continues at Rutgers–Newark. He later participated in the creation of the New Jersey Educational Opportunity Fund (EOF), a groundbreaking program launched in 1968. Roper since has served on numerous Rutgers advisory boards and groupsthat support the university, including the Rutgers Board of Governors. In addition, he established the Richard W. Roper Undergraduate Scholarship in Civic Responsibility for Rutgers–Newark students.
After earning a master's from Princeton University in 1971, he served as executive director of the Office of Newark Studies, a city program that Rutgers administered under Newark Mayor Ken Gibson, the first Black mayor of any major northeastern city. He later held a leadership position in the U.S. Department of Commerce under President Jimmy Carter and then prominent roles for more than a dozen years at Princeton. He next had two stints directing planning and policy at the Port Authority of New York and New Jersey, andfounded the Roper Group, a firm that has aided organizations such as the Pew Charitable Trusts. He also was a senior fellow at the Nelson A. Rockefeller Institute of Government of SUNY for 10 years.
Also inducted last week were New Jersey Health Commissioner Judith Persichilli, aerospace technology and engineering trailblazer Kenneth Johnson, and project management and energy industry pioneer Brian Reilly.
Introduced in 1987, the Rutgers Hall of Distinguished Alumni's first class of inductees included Paul Robeson and Nobel Prize-winning economist Milton Friedman. Since then, more than 200 alumni have been inducted, including five former New Jersey governors, recent Emmy Award-winning actor Sheryl Lee Ralph, andCarli Lloyd, a professional soccer star who led the U.S. team to two Olympic gold medals. Inductees are selected by the Rutgers University Alumni Association (RUAA) Board of Directors, which leads the association made up of more than 570,000 Rutgers alumni worldwide.