Remarks by Rutgers University – Newark Chancellor Nancy Cantor
It is such a great honor to be here today on behalf of all my colleagues at Rutgers-Newark, to join with these terrific partners, to mark the resurgence, the renewal, the preservation, the renovation, of a grand space, a gathering place: where generations of families shopped and took holiday photos (and I meet people all the time with just those stories); where James Van der Zee, the magnificent Harlem renaissance photographer had his first apprenticeship – a physical spot that reminds us every day of the timeline of perseverance that is Newark.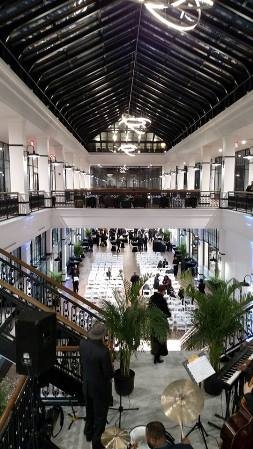 I always believe that physical spaces (buildings, walkways, parks) – especially beautiful, aspirational ones like this – become the conduit to social bridges – that we can go seamlessly from civil infrastructure to social infrastructure – and that is just what Hahne's means to us. It certainly allows Rutgers-Newark to genuinely be "of" Newark, not just located "in" Newark, marking our embeddedness and interdependence as an anchor institution that draws its identity from this great city and its even greater people.
The collaboration that went into this happening – between prescient developers, corporate and foundation sponsors, architects, construction teams, artists – bodes so well for the social infrastructure that is already taking shape – for example, in Express Newark, a university-community collaboratory right here (with galleries, media and design centers, photo and print and video production studios, smart classrooms and 3D printers, an arts business hub, and more). Express Newark's 50,000 square feet of creative place-making is coming alive under the very thoughtful co-leadership of Anne Schaper Englot, Rutgers-Newark professor of architecture and humanities, and Victor Davson, Newark gallerist and artist extraordinaire, with support from the Department of Arts, Culture, and Media, the dean's office, Arcelio Aponte and Tony Calcado and their colleagues in facilities and finance, the KSS Architects team, our philanthropic supporters (Bank of America, PSEG, Panasonic, MCJ Amelior, and L+M Development Partners and Prudential), and most importantly an operations committee of Newark arts partners programming the space, and resident artists, including The Newark Print Shop and HYCIDE magazine.  And side by side with Express Newark, our Barnes and Nobles bookstore and Kite + Key Rutgers Tech store will round out the spaces where the imagination can feast.
For what we dream happens here is that this "third space of collaboration" will be inhabited (probably 24x7) by thousands of college students and cohorts of local school children – and in fact, just this past Saturday the Newark City of Learning Collaborative began its Pathways to Achievement and Success program with 120 Newark Public School students right here in Express Newark. Here, community residents, local and visiting writers and artists, dedicated faculty, and visitors of all sorts will take and teach classes, tell, draw, photograph and film their life stories, air their agreements, disagreements, and passions in the safety of a third space, in the excitement of a space of art, of cultural collision and interpersonal, inter-generational cooperation, of imagination. 
As a social psychologist I know there is a substantial bonus to be reaped (for innovation, for education, for economic development, for civic life) by the diversity (of cultures, heritages, faiths, identities) that is Newark, Rutgers-Newark, indeed America and the world today. Yet it takes hard work to reap that diversity bonus, to go beyond the differences, the binaries of our lives, to let surface the intersections of our common dreams and aspirations, fears and inhibitions. A place like Hahne's, filled with the excitement of generations past, present, and to come, a home to civic dialogue including the L+M Lecture Series dedicated to Clement Alexander Price, who never for a moment forgot the potential of Newark and Newarkers, can help us do that hard social work, to come together, and for that we are so grateful to Ron Moelis, and so many others, for letting us imagine this hopeful future built on the very best of the past. And speaking of the past – the glorious past – as it shapes what we can improvise for the future – please wander in today to our very first exhibition in the gallery at Express Newark, Records at Play: The Institute of Jazz Studies@50. Thank you, welcome, join us, and enjoy!