Express Newark, RU-N's Arts Incubator, Now Open in Historic Former Hahne's Department Store, Is Bringing New Synergy to Newark's Arts District
If the walls of the former Hahne & Co. department store could talk, they'd tell a story of 116 years of booms, busts, triumphs, and tribulations. However, on Jan.17, the iconic structure in the heart of Newark's downtown will express a new story: one of reincarnation. Express Newark, an arts incubator conceived by Rutgers University-Newark (RU-N) faculty, staff, students, and community arts leaders, will occupy 50,000 of the structure's massive 500,000 square feet. Building on an already high level of synergy among Newark's anchor institutions, Express Newark will partner with community arts organizations in the city's socially, economically, and culturally diverse neighborhoods. RU-N arts classes in Express Newark began with the spring semester on Jan. 17. Entrance to the building is at 54 Halsey St.; the building is designated as HAH on RU-N class schedules.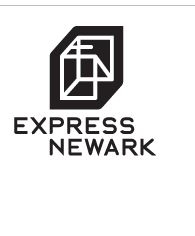 Express Newark is a bold plan to cultivate local artistic expression that resonates globally by facilitating public scholarship and community engagement, opening an exciting new chapter in the city's cultural history. RU-N envisions Express Newark as the fulcrum of the city's burgeoning Arts District, linking well-established institutions such as the Newark Museum, the Newark Public Library, the New Jersey Performing Arts Center, Military Park, and WBGO public radio, with Halsey Street's studio art spaces and the Great Hall at RU-N's 15 Washington Street. Designed by Goldwin Starrett and renowned for its striking architecture that embodies the department store aesthetic of early 20th Century urban America, Hahne's has been an iconic focal point of the downtown Newark streetscape since opening in 1901.
Within the former store Express Newark will provide state-of-the-art interdisciplinary public learning spaces where artists, community residents, and community partners will create visual, spoken word, and electronic arts, foster democratic dialogue, and effect positive transformation. All of their collaborations, experimentation, and innovation will be done in partnership with RU-N faculty, staff, and students.
Express Newark will help fulfill one of the chief goals of RU-N's strategic plan: to create third spaces where RU-N can engage collaboratively with community partners, further fulfilling its proud tradition of anchor institution investment in its home city.
Express Newark is co-directed by Victor Davson, founding director of Aljira, a Center for Contemporary Art, Newark's longest lived and most respected gallery, and Anne Schaper Englot, RU-N professor of architecture and humanities in the interdisciplinary Arts, Culture and Media (ACM) Department.
Developing Express Newark was an "organic process," according to Davson. This evolution posed challenges in fulfilling EN's mission of breaking down barriers between the university and the community, and creating partnerships in parts of the community that the university had previously been unable to reach, so that RU-N could truly be "of Newark, and not simply in Newark," explains Davson.  "We want people who walk past the building to feel included, to feel, 'That place is for me,'" states Englot.
Express Newark will have facilities on the second through fourth floors of the Hahne's building, which closed in the mid-1980s.  Community organizations and members of the public will have access to Express Newark services such as a design consortium, 3-D printing studio, a photographic portrait studio, video production teaching facilities, smart classrooms, seminar rooms, and more. Community collaborators including the Newark Print Shop and Hycide magazine as well as artists-in-residence programs will nurture local artists as they grow their practices. (A full list is here.)
The first exhibition in the expansive new gallery will be Records at Play: The Institute of Jazz Studies@50, a yearlong celebration designed to educate and heighten public awareness on the treasures of the world's foremost jazz archive located on the campus of Rutgers University-Newark.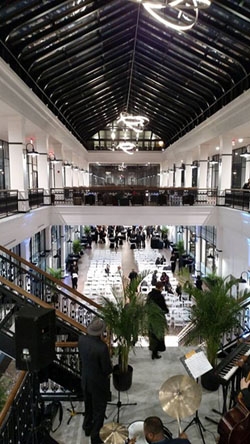 (left, opening celebration for Hahne's building on Jan. 23, 2017) A highly diverse advisory group of artists from the community worked with Davson and Englot to shape Express Newark and move it forward from vision and mission to a reality, determining what programs and partners to house in the building, as well as what facilities were needed.  Providing critical input on the project was a broad-based operations committee, comprised of faculty, the directors of the galleries and the jazz archives, the director of the Center for Urban Entrepreneurship and Economic Development at the Rutgers Business School, Newark artists, leaders from other Newark arts anchor institutions (New Jersey Performing Arts Center, Newark Museum, Newark Arts Council) and the Newark mayor's cultural affairs director.
The Rutgers Board of Governors approved funding for the Express Newark renovations to the Hahne's building in 2014; the key project investors, Prudential Financial and Goldman Sachs, provided additional construction financing for the remainder of the redevelopment project. Prudential, PSEG, the Bank of America, and The Kresge Foundation awarded grants to Express Newark.
Some additional funding came in the form of seed grants from Rutgers Chancellor Nancy Cantor. Jayne Anne Phillips, director of RU–N Master of Fine Arts (MFA) in Creative Writing Program, and Nick Kline, professor in RU-N's Department of Arts, Culture and Media, received a $50,000 seed grant to work with MFA in Creative Writing students and Newark-based printmakers to create "Artists Broadsides in Express Newark." This program – through which artists will compile chapbooks of various visual works they create – will bring MFA candidates to Newark high schools to mentor students there.
A $12,000 seed grant went to Institute of Jazz Studies archivist Adriana Cuervo to support the "Newark Citizen Historian" project with partners Newark Public Library, Newark History Society, Queer Newark, and Express Newark. This project will invite current generations of African-American residents to help make their forebears' stories even more vivid by scouring their homes for artifacts and heirlooms that can then be researched and displayed.