Young Refugees are Focus of Film Screening, Panel Discussion at Newark Museum on March 30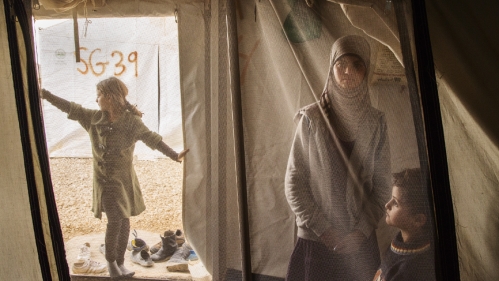 Three short documentaries on young refugees created by the Newest Americans at Rutgers-Newark will be screened Thursday at the Newark Museum of Art, followed by a panel discussion about the challenges faced by refugee youth and how to create opportunities for them. The event will be held from 7 p.m. to 9 p.m.
The films span a decade and three countries, including "Refugee Scholar,'' which follows the journey of Rutgers-Newark alumna Hourie Tafech, a third-generation Palestinian refugee who founded Spark 15, the first advocacy group for young refugees led by refugees themselves. She received her PhD from the Rutgers-Newark Division of Global Affairs in 2021.
The additional documentaries are "Malta, Through Refugee Eyes,'' which features images from a National Geographic photo camp for young refugees, and "Syria's Lost Generation," which tells the story of children displaced by the nation's civil war.
Newest Americans filmmakers Julie Winokur of Talking Eyes and Tim Raphael,  director of Rutgers-Newark's Center for Migration and the Global City, created the films to draw attention to the plight of more than 36.5 million refugee children.
According to the United Nations, from  2011 to 2022, the total number of people worldwide forced to flee their homes due to conflict, violence, fear of persecution, and human rights violations, more than doubled to 103 million, becoming the highest since World War II.  More than 40 percent of refugees are under the age of 18. 
As their numbers continue to grow, their lack of access to higher education constricts opportunity for upward mobility and threatens to create dire consequences for refugee youth and societies across the globe.
"Unless we figure out how to provide refugee youth with educational opportunities they will become a lost generation; tens of millions of young people without a future,'' said Winokur.
The experiences of RU-N's large population of migrant and immigrant students have informed the mission of Newest Americans, a collaborative of film makers and Rutgers-Newark faculty and students. 
"The most compelling stories for us are ones that are rooted locally but have global implications. RU-N has a large number of undocumented, displaced and refugee students. Many of them are social justice activists, organizers and leaders both here and in the countries they migrated from,'' said Raphael. "They give us a privileged access to communities whose experience and knowledge inform the focus and vantage point of the stories we cover.''
Panelists for the discussion following the screening include Diya Abdo, founding director of the advocacy group Every Campus A Refuge, Rutgers-Newark Chancellor Nancy Cantor, who is a co-chair of the Presidents Alliance on Immigration and Higher Education, and Erik Cruz Morales, Policy & Advocacy Manager at the New Jersey Alliance for Immigrant Justice. Tafech will also speak on the panel, along with Raphael and Winokur.

About Newest Americans
Newest Americans is a multimedia laboratory where visual storytellers, journalists and artists collaborate with academics and students to document the stories that radiate from the most diverse university in the nation. Based in Newark, NJ—a city shaped by migration—the project also explores the ways the history of the city informs these contemporary immigrant stories. The project cross-pollinates academic inquiry, public humanities programming, and award-winning media production to generate fresh narratives and insights about our (im)migrant past and our demographic future.