SASN Grad Combines Art and Writing to Explore Themes of Social Justice and Personal Growth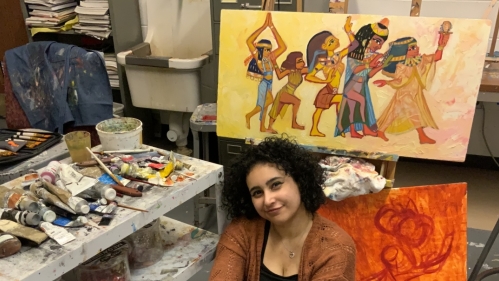 Mahinour Abdou remembers growing up in Bayonne, NJ, the oldest of three children born to Egyptian parents who emigrated to the U.S. in 1997. Her dad and mom painted and drew in multiple mediums outside their day jobs and immersed Abdou in the work of Salvador Dali and other artists via books and museums while she was coming of age.
Abdou took this inspiration and headed in her own direction, throwing herself into Disney movies as a kid. She'd mimic the characters' movements, then sketch and write stories about them.
"I loved creating my own worlds, giving these characters personalities and bringing them alive," said Abdou.
Abdou took that love of art and writing with her to Hudson Community College, where she received an Associate Degree in 2019, then to Rutgers University–Newark, where she majored in Fine Arts and minored in Art History and graduated this week.
At RU-N Abdou focused on oil painting, working with several mentors, including adjunct professor Anna Kristensen, a Brooklyn-based artist who studied in her native Australia and Berlin, Germany, before teaching as a Part-time Lecturer at RU-N, and who has exhibited internationally and extensively across her home country.
Abdou also steeped herself in Art History, soaking up knowledge and wisdom from Associate Professor Paul Sternberg and Part-time Lecturer Emanuele Cacciatore, among others, studying European as well as Egyptian art to learn more about her heritage and history.
Cacciatore has been moved by Abdou, he says, marveling at her commitment to becoming the best person, art history student and artist that she can be.
"During her time at RU-N, Mahinour has developed into a mature and dedicated artist, and like many dedicated and creative individuals, she constantly presses the parameters of her skillset and comfort level," he said. "She is extremely talented, advocates for herself and is driven to succeed, and her artistic drive and intellectual curiosity are reflected in the cohesive and compelling body of work she has created throughout the years." 
Abdou also was heavily influenced by a course she took called Problems in Art with Assistant Teaching Professor Keary Rosen, under whose tutelage Abdou completed a project consisting of 10 digital illustrations accompanied by poems she wrote that speak to the images.
Abdou exhibited her project in May as part of Express Newark's year-long programming of art installations, immersive films, public lectures and community classes reflecting how the concept of Aliveness can be an innovative and timely exploration of contemporary art, racial freedom and environmental justice. As part of this programming, Rosen had his class (including Abdou) also assist Express Newark Artist-in-Resident Willie Cole's art interventions, Spirit Catcher and Lumen-less Lantern, two large-scale, chandelier-like sculptures that address Newark's water crisis and our planet's plastic problem.
"Our class worked alongside Willie in what were real studio sessions, and Mahinour took those class periods seriously and became a leader among her peers," said Rosen. "Mahinour also produced a number of lovely illustrations and poems for her class project that spoke of the natural world. Those collective works could easily become a book of poetry."
Abdou also mounted a solo exhibition this spring in Bradley Hall called "When the Pharaoh Stood Still," featuring oil paintings in a range of sizes addressing themes of ancient Egypt and her own personal journey. One of her paintings was incorporated into a website for Rutgers University's ExternalInstitute for the Study of Global Racial Justice.
For her many talents and achievements while at RU-N, Abdou recently received the Creative Achievement in Fine Arts Award at the SASN Annual Awards banquet.
Abdou is currently applying to film studios and marketing/branding agencies for jobs involving illustration and story writing, while continuing to create paintings and other art across several mediums. She's optimistic about the future and grateful for all that RU-N provided her.
"As someone who is pretty much thankful of every second of the day no matter where my day has gone to or what I have been facing, I am grateful to my professors and RU-N for giving me a glimpse of the world so I can make a difference after my senior year here and make the world a better place," said Abdou. "RU-N has been like a board game where you never know where the next treasure is coming from. It's been amazing."