Rutgers University − Newark Announces 2020 Commencement Speaker and Honorary Degree Recipient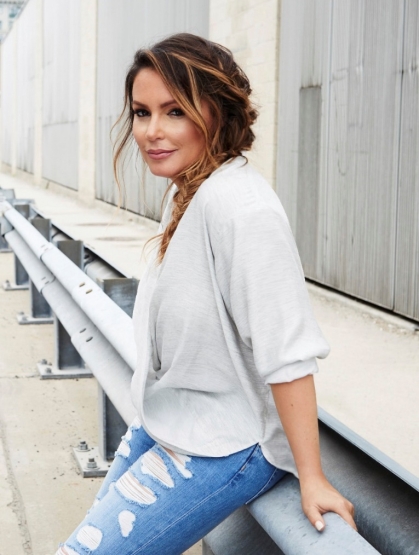 The Rutgers University Board of Governors confirmed today that renowned media personality, recording artist, author and philanthropist Angela "Angie" Martinez will deliver the keynote address at the Rutgers University-Newark Commencement Ceremony on May 20, 2020 at the Prudential Center. Selected for this honor by a committee of students, faculty and staff, Martinez also will receive an honorary Doctor of Fine Arts degree.
Martinez is recognized as one of the most influential personalities in popular culture and media. In addition to her more than 25 years of radio and television hosting experience, she has a diverse portfolio of entrepreneurial endeavors. She is a pioneer in popularizing hip-hop music, having earned a Grammy nomination in the genre in 1998 and having established herself as one of its leading on-air radio personalities through her shows on stations Hot 97 and then Power 105.1, as well as iHeartMedia.com. Martinez' 2016 book, My Voice: A Memoir (Celebra-Penguin Random House), spent two weeks at the top of The New York Times bestseller list.
Born in New York City to a mother of Cuban, Puerto Rican and Dominican ancestry and a father of Puerto Rican ancestry, she followed her childhood aspirations to pursue a career in broadcasting, advancing through hard work in the male-dominated profession to reach the pinnacle of success, always maintaining acute awareness of where she came from and leveraging her good fortune to make a difference in the world. From the start of her career, Angie earned the respect and trust of some of the most influential artists in music through her authentic and personable interviewing style. From famous early interviews with Tupac Shakur, The Notorious B.I.G. and JAY-Z, to more recent interviews with Barack Obama, Taraji P. Henson, J. Cole and others, Angie has spoken with the pre-eminent leaders in music, entertainment and politics. In 2017, she was appointed consultant for content and culture at TIDAL, which is co-owned by JAY-Z and a collection of other major music artists in what is thought to be the first artist-owned streaming service in the world. The next year, she earned the Marconi Award for Major Market Personality of the Year in recognition for her work and contributions in media. As successful an artist, media personality and author as she has become, Martinez is equally committed to giving back and shining a light on worthy causes. 
Rutgers-Newark Chancellor Nancy Cantor said, "We are particularly moved by the way that Martinez has resonated with the work that Rutgers-Newark students have been doing collaboratively with Newark Public Schools students to aid recovery efforts in post-Hurricane Maria Puerto Rico."
Through a joint experiential learning initiative with Rutgers-Newark, Malcolm X. Shabazz High School in Newark built solar-energy kits under the tutelage of their science and social/global studies teachers. Rutgers-Newark students in the university's International Leadership Exchange Global Scholars program then traveled to Puerto Rico during their spring break to install the assembled kits on the rooftops of buildings, bringing light and hope to some of Puerto Rico's most devastated towns. 
"Martinez not only traveled with our students to install the 'solar suitcases' in Puerto Rico," Cantor said, "but she created and released a documentary film about this initiative titled Be the Light, which has garnered thousands of views (https://tidal.com/BeTheLight), including a mechanism for viewers to donate to continue this kind of work. Ms. Martinez knows our students, loves our students, and inspires—and is inspired by—our students. She is an ideal commencement speaker and honorary degree recipient from Rutgers-Newark."
About Rutgers University – Newark
Rutgers University-Newark (RU-N) is a diverse, urban, public research university that is an anchor institution in New Jersey's cultural capital.  More than 13,500 students are currently enrolled at its 38-acre campus in a wide range of undergraduate and graduate degree programs offered through the School of Arts and Sciences-Newark, University College, the Graduate School, Rutgers Business School-Newark and New Brunswick, the Rutgers Law School-Newark, the School of Criminal Justice and the School of Public Affairs and Administration. RU-N is exceptionally well positioned to fulfill higher education's promise as an engine of discovery, innovation, and social mobility. It has a remarkable legacy of producing high-impact scholarship that is connected to the great questions and challenges of the world. It has the right mix of disciplines and interdisciplinary centers and institutes to take on those questions and challenges. It is in and of a city and region where its work on local challenges undertaken with partners from many sectors resonates powerfully throughout our urbanizing world. Most importantly, RU-N brings an incredible diversity of people to this work—students, faculty, staff, and community partners – making it more innovative, more creative, more engaging and more relevant for our time and the times ahead.  For more information please visit www.newark.rutgers.edu.