Rutgers-Newark Students Recognized by New Jersey Legislature
The New Jersey Senate and General Assembly recognized five college interns in joint legislative resolutions at the State House in Trenton on Dec. 16, 2019. The pilot summer internship program was sponsored by the New Jersey Legislative Black Caucus and the New Jersey Legislative Black Caucus Foundation (NJLBCF) in partnership with the School of Public Affairs and Administration at Rutgers University–Newark (RU-N), RU-N's Department of Political Science at the School of Arts and Sciences, and RU-N's Office of University-Community Partnerships (OUCP) to provide opportunities in the political sector for African-American students. The resolutions acknowledged the interns' "significant contributions" and the "successful completion" of their internships. The occasion, declared as "Internship Legislative Day," allowed the interns to meet legislators, lobbyists and other interns to expand their social capital networks.
 
"Many of the students had not had the opportunity to work with legislators and policy makers. This program provided them with hands-on knowledge and supports them as change agents," said Dr. Diane Hill, RU-N's assistant chancellor for university-community partnerships.

The NJLBCF is a nonprofit organization created by the New Jersey Legislative Black Caucus to promote public policy by encouraging the interaction of the community with legislators and members of the government at all levels. The NJLBCF, through the collaborative effort of the legislators, business leaders, and community leaders, holds public forums, sponsors seminars, provides scholarships, and works to empower New Jersey's neglected citizens.

According to the Center for Youth Political Participation at Rutgers University's Eagleton Institute of Politics, about 16.3 percent of members of the New Jersey General Assembly are Black/African American, and 12.5 percent of members of the New Jersey State Senate are Black/African American. According to the U.S. 2019 Census, 15 percent of New Jersey's population is Black or African American.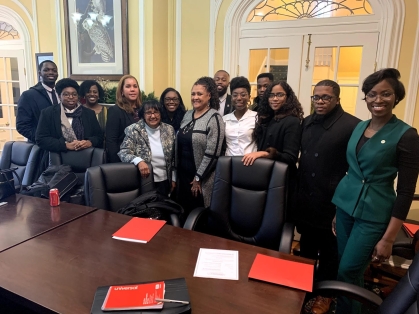 Chosen for their interest in legislative initiatives, legislative district development, and government operations, the inaugural cohort of interns included RU-N undergraduate students Elijah Brown, of East Orange, who interned with City Council Chairman Chris James; Assatta Mann, of Passaic, who interned with Assemblyman Benjie E. Wimberly; Brandon Mathieson, of East Orange, who interned with Assemblywoman Britnee Timberlake; RU-N SPAA graduate student Ricky Stephens, who interned with Assemblyman Jamel Holley in 2018; and the College of New Jersey undergraduate student Jada Grisson, of Delran, who interned with Assemblyman Herb Conaway.

Placed in the districts in which they lived, the interns received a stipend and worked directly with their legislators and the chief of staff or policy directors of the respective legislative offices. In addition to the hands-on approach to learning the legislative ropes, the interns had to identify and propose solutions to policy issues that significantly impacted their districts or the African-American community.
 
All of the interns had a positive response toward their participation in the program. The internship further developed the passion that each student has for politics. They emphasized how the program helped to gain an enhanced understanding of the nuances in local and state politics, which reaffirmed their interest in the field.

"This internship has helped me increase my knowledge of political science and has given me a passion for working in politics," said Brown, a senior majoring in political science.
 
Mann, also a senior who is majoring in political science, voiced her feelings about being able to intern in her own district.
 
"It has been a worthwhile and meaningful experience," said Mann. "It provided experience in how politics works at the local and state level."
Grisson, a senior who is majoring in political science and African-American studies, appreciated the active participation in the internship and how her involvement contributed to a better comprehension of the legislative process.
 
"It is super hands-on," said Grisson. "I was able to research legislation. It is really illuminating in terms of what the state-level is in terms of process."
 
Mathieson, a senior who is majoring in political science, appreciated the internship's augmentation of the knowledge he acquired from school.
 
"It was a fulfilling experience I will not forget," said Mathieson. "I gained skills I would not be able to achieve in a classroom."
 
Stephens, who obtained his undergraduate degree in public administration in 2019 and currently is pursuing a master's degree in public administration at the School of Public Affairs and Administration at RU-N, was hired as a legislative aide to Assemblyman Holley after completing his internship.
 
"Make the most of your experiences," advises Stephens. "There is something to take away from both the good and the bad experiences. It's about really keeping things in perspective and using your experiences as tools to reach your professional goals."
 
About Rutgers University–Newark 
Rutgers University–Newark (RU-N) is a diverse, urban, public research university that is an anchor institution in New Jersey's cultural capital. More than 13,000 students are currently enrolled at its 38-acre campus in a wide range of undergraduate and graduate degree programs offered through the College of Arts and Sciences, University College, the Graduate School, Rutgers Business School-Newark and New Brunswick, the Rutgers Law School, the School of Criminal Justice, and the School of Public Affairs and Administration. RU-N is exceptionally well positioned to fulfill higher education's promise as an engine of discovery, innovation, and social mobility. It has a remarkable legacy of producing high-impact scholarship that is connected to the great questions and challenges of the world. It has the right mix of disciplines and interdisciplinary centers and institutes to take on those questions and challenges. It is in and of a city and region where its work on local challenges undertaken with partners from many sectors resonates powerfully throughout our urbanizing world. Most importantly, RU-N brings an incredible diversity of people to this work—students, faculty, staff, and community partners—making it more innovative, more creative, more engaging, and more relevant for our time and the times ahead. For more information, visit rutgers.edu.