Rutgers-Newark Students Learn About Philanthropy Through Filmmaking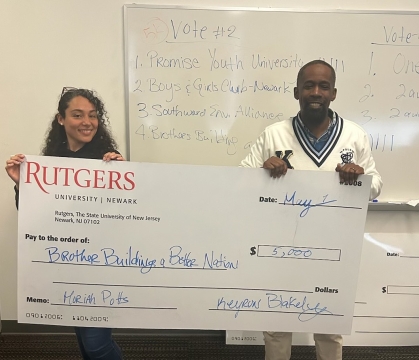 Philanthropy isn't confined to moguls and their million-dollar donations, students learned in a Rutgers-Newark class last spring. It can be the work of everyday people supporting grassroots organizations without giving money, said professor Lindsey McDougle, who teaches a course called Philanthropy, Volunteerism and Community.
"At the start of the class, I ask how many students think of themselves as volunteers, and most of them do. But when I ask how many consider themselves to be philanthropists, they have this idea that only wealthy people are able to do,'' said McDougle, who teaches in the School of Public Affairs and Administration (SPAA). "What I want the students to take away is that you don't have to be rich or have huge assets to support your community. You can do it in various ways. It can be the donation of time, resources and kindness.'' 
Although McDougle has been teaching the course for six years, assigning student groups to give presentations on a local organization of their choice, this was the first year they worked with a professional videographer to create short films. They focused on groups in Greater Newark tackling issues such as equity in education, environmental justice and food insecurity. After a screening in May, called the Reel Philanthropy Mini Film Festival, the class chose one organization to be the recipient of  $5,000 from the Learning by Giving Foundation. The videos can be viewed here. 
The winner was Brothers Building a Better Nation, a small but growing Newark-based group that supports young men coping with trauma and lack of resources. The video, created by students and filmmaker Rauzar Alexander, who co-taught the class, raised awareness of the organizations work, helping them form partnerships with local nonprofits that have a similar mission and obtain additional funding beyond the $5,000. Support even helped increase staff, giving them money to hire a part-time case manager, said Quadeer Porter, founder and president of Brothers Building a Better Nation.
Other nonprofits featured in class videos also benefited. These included Promise Youth University, the South Ward Environmental Justice Alliance and The Boys & Girls Club of Newark.
"Smaller grass roots organizations don't have the finances to make a commercial about what they do or support them in a well-packaged way. So they really appreciated this,'' said McDougle.
Added Porter, "The video brought to life the things that we've been trying to talk about. It was more of a call to action, bringing focus on the seriousness of the issues we're dealing with. A lot of times our young men are under attack.''
Porter, who graduated from Rutgers-New Brunswick and will be enrolling at Rutger-Newark to get his master's degree in Social Work, founded the group in September of 2020 after discovering that he was the only Black man who owned a home on his block in the Lower Broadway section of the Central Ward. 
He made a point of reaching out to the younger men in the neighborhood, many of whom were in their early 20s, and learning about their challenges, some of which he faced himself during his young adulthood in Newark.
Many were struggling with the aftermath of violence and trauma, including, in some cases, the pain of having loved ones addicted to drugs. It wasn't uncommon for them to go through periods of homelessness. "They are at a crossroads, and it's really a matter of life or death,'' said Porter.  "A lot of them feel powerless. They need someone to talk to, therapy, mentorship, shelter, jobs, a program that will help give them job training.''
Brothers Building a Better Nation fills a "gap in the social safety net,'' he said.
"We act as a case management group,'' he explained. "Some need help filling out applications for food stamps because they don't have computers. Some don't have transportation. Some are homeless. If you're kicked out of your parents' house on the weekend, you're going to end up living in the park, so we try to find emergency housing to keep them afloat until they find something more permanent.''
Moriah Potts, a third-year student who worked on the video, had been interning at Brothers Building a Better Nation when she chose to feature the group for her class project. A Newark resident who lives in the Central Ward near Porter,  she says his  mission resonated with her, especially because she is the mother of an 11-year-old boy. The class helped her realize what it takes for small, community-based nonprofits to thrive.
"There are a lot of factors to get things up and running,'' said Potts. "The most important thing is exposure. An organization can do great things, but if the money isn't there and the exposure isn't there, you're chasing your tail.''
The class also deepened her understanding of who can be a philanthropist and what they can accomplish. "Philanthropy is way more than pulling in money. It's finding out what resources are available in that community so you can change the circumstances you're trying to change. It's knowing what resources will make a substantial impact rather than standing around and hoping someone else can fix it.''
For Keyron Blakely, now a graduate student seeking a degree in public administration, the class led to a different perspective on the meaning of philanthropy.
 "I learned that it can be an action. It's not just a noun, it's a verb. The core of the word comes from helping others that can't help themselves,'' said Blakely, a Newark resident, who has worked with the City of Newark's re-entry outreach and workforce development efforts. "If you keep that mission first and keep it in front of you, it's easy to buy into what it takes to be a philanthropist.''