Rutgers-Newark Provost Jeffrey Robinson Named to Statewide Diversity Finance Advisory Board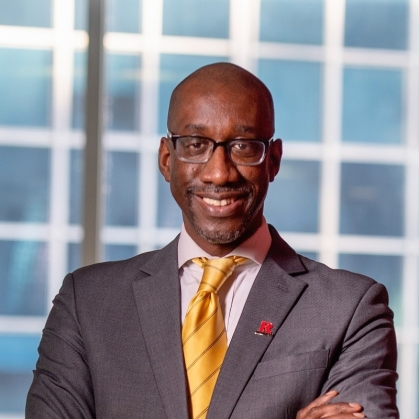 Rutgers-Newark Provost  and Executive Vice Chancellor Jeffrey Robinson was named to the newly formed state Diversity Finance Advisory Board.
The board, formed by the New Jersey Economic Development Authority (NJDEA), will work to increase access to institutional capital for women- and minority-owned startups. It will also provide knowledge, guidance, and insights on ways to best increase capital, access, and investments in New Jersey's diverse entrepreneurs.
Robinson, a Rutgers Business School professor, is an internationally known author and co-founder of the Center for Urban Entrepreneurship and Economic Development. He holds Prudential Chair in Business and is Professor of Management and Global Business at Rutgers Business School and specializes in management and entrepreneurship.
He has authored many articles and books in his areas of expertise, including the 2022 Harper Collins guide "Black Faces in High Places: 10 Strategic Actions for Black Professionals to Reach the Top and Stay There,'' co-authored with Rutgers alumnus Randall Pinkett.
"I am very pleased to serve on the state's Diversity Finance Advisory Board.  I have been working in this space for than 15 years and it is great to see the State of New Jersey taking a leadership role to provide access to capital and resources for all of the state's entrepreneurs,'' said Robinson.
According to a survey from the National Venture Capital Associations (NVCA), investments have quadrupled across the United States over the past 10 years, but those increases are not true for startups with women or racial minorities as their founders. The State recognizes national studies that correlate with the NVCA study that finds only one percent of venture capital-backed founders are Black and less than two percent are Hispanic.
 
"Across the nation, women- and minority-owned startups have not benefitted from the increase in venture capital investments that white-owned startups have experienced. The Diversity Finance Advisory Board aims to rewrite that narrative and ensure New Jersey-based diverse entrepreneurs have equitable access to institutional capital," said NJEDA Chief Executive Officer Tim Sullivan. "Under Governor Phil Murphy's leadership, New Jersey has prioritized supporting diverse entrepreneurs and growing the state's innovation community. The creation of this advisory board, comprised of investment, entrepreneurship, and subject-matter experts with a commitment to diversity and inclusion, is another tangible step toward a stronger, fairer, and more diverse New Jersey economy."
 
Sullivan announced the creation of the board during a speech at the African American Chamber of Commerce of New Jersey's Business Leadership Conference in Woodbridge recently.
 
"Our state has put forth a strategy that has the potential to have a transformational impact on the competitiveness of New Jersey," said John E. Harmon, Sr., IOM, Founder, President & CEO, African American Chamber of Commerce of New Jersey. "Moreover, today's announcement could lead to a more level playing for woman and minority owned businesses whose vision and proposed plans to establish a successful enterprise can now be realized. This is a positive step towards a more equitable future for New Jersey."

"Black and Latino communities face long-standing barriers including those that limit their access to capital, yet these communities remain incubators of ingenuity and innovation," said Jayné Johnson, Director of the Governor's Office of Diversity, Equity, Inclusion, and Belonging. "NJEDA's Diversity Finance Board advances the Administration's efforts to increase access and opportunity for historically underrepresented entrepreneurs, and supports our state's innovation economy by engaging women, Black, and Latino entrepreneurs in the venture capital market. Our state's competitive edge is strengthened when promising, new business startups are equipped to succeed."

The board, in collaboration with NJEDA staff, will work to make New Jersey a national leader in diversity finance. Board members will also work to develop a private-sector engagement framework to identify and engage the state's private capital sources. Additionally, Board members will help establish partnerships to support the NJEDA's mission to grow high-quality jobs, catalyze investment, and foster inclusive community development.