Rutgers-Newark Program for Entrepreneurs Seeks Applicants, With Boost from Fiserv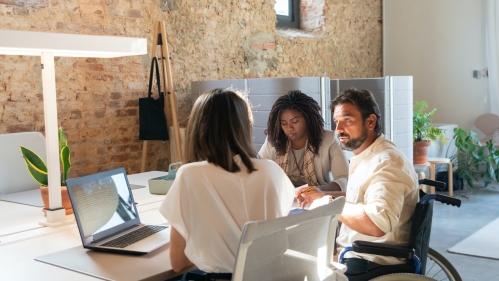 A Rutgers-Newark program that's helped more than 300 New Jersey entrepreneurs grow their small businesses marks its 15th anniversary with a call for applicants and new support from Fiserv, a leading global provider in financial technology with a flagship presence in New Jersey. 
The Entrepreneurship Pioneers Initiative (EPI) helps first-generation entrepreneurs who've been in business for at least two years create long-term plans for success through counseling, mentorship, networking and education.
It was created by the Rutgers Business School's Center for Urban Entrepreneurship & Economic Development (CUEED), which concentrates on building strong corporate and community partnerships to support the revitalization of Newark and other urban areas in New Jersey. 
The EPI program will choose up to 30 entrepreneurs from across the state, with a special interest in businesses headed by owners who are women and/or Black, Indigenous and other people of color. All must demonstrate potential to grow on a larger scale. The EPI program runs from April through December and the deadline to apply is March 31.  The application link, and more information on the program, can be found here. 
For the first time, the EPI program will be supported by Fiserv, expanding on the relationship between Fiserv and Rutgers-Newark established last year with the announcement of the Fiserv-RU-N Program for Inclusive Innovation, a multi-faceted initiative designed to leverage diversity to drive innovation in the financial technology industry. In addition to providing financial support, Fiserv will play an active role in the EPI program, helping to educate business owners on financial technology.
 "Fiserv is big on supporting small businesses and fintech is behind almost every transaction we perform as consumers,'' said Jeffrey Robinson, Rutgers-Newark provost and co-founder of CUEED. "They want to make sure that all these small businesses know how technology can help them accept new payment types and run their business more efficiently.''
"Encouraging entrepreneurship, especially among diverse groups, builds the communities where we all live and work," said Guy Chiarello, Chief Operating Officer at Fiserv. "Supporting the EPI program is a tangible way we can facilitate inclusion and innovation in New Jersey."
Lyneir Richardson, executive director of CUEED, says small businesses are the backbone of the nation's economy and supporting them is critical, especially those who have less access to connections and capital. They're the business owners EPI was created to help.
"We recognize the role that entrepreneurs play in terms of being economic engines. They make our cities and neighborhoods more vibrant. They create jobs,'' said Richardson. "We're working to get 1000 diverse entrepreneurs in New Jersey the educational resources and the capital needed to grow to one million a year in annual recurring revenue.''
The EPI program has had great success since its inception, with 84 percent of graduates surveyed reporting their businesses improved. More than 73 percent of EPI alum report higher revenue, while 67 percent report  higher profits.
The entrepreneurs come from a range of industries. "Restaurants, trucking companies, consultancy firms. It's an eclectic group,'' said Richardson.
EPI graduate Hilda Mera, owner of S&A Auto Centers, an auto repair shop in Newark, said the program was instrumental in helping her develop her company and increase profits.
"We learned what we needed to know to see if we're growing up not,'' she said. "It helped me focus on my business.''
Other EPI sponsors include PNC Bank, Wells Fargo and TD Bank Charitable Foundation.