Rutgers-Newark Partnership Seeks to Educate African Graduate Students in STEM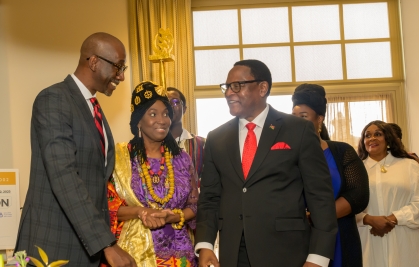 Leaders from Rutgers-Newark, the president of Malawi, and officials from an African non-profit dedicated to advancing STEM careers celebrated a partnership that aims to provide Rutgers graduate degrees to as many as 100 African students annually.
"Any country that wants to be competitive in the 21st-century is going to need STEM and people trained in STEM to be successful, grow their economies and create the kind of innovations that every nation is going to need to survive,'' said Rutgers-Newark Provost and business school professor Jeffrey Robinson, who is leading the effort at Rutgers. "We're training people who can be leaders of innovation in their countries.''
At a ceremony filled with music and rituals from Ghana, Ghanaian Princess Asie K. Ocansey, an executive chair of  SOS Nekotech Center and a Rutgers alumna, presented a symbolic check representing $100 million in educational loans to President Lazarus Chakwera of Malawi. Over the next ten years, the goal is to educate 1,000 Malawian students at schools across the U.S., with Rutgers-Newark as a key collaborator. 
"It's about re-engineering the future of our countries,'' said Ocansey, leads the Nekotech Center of Excellence, which is committed to transforming the lives of African youth by enabling them to become high-earners with a national and global impact. 
Chakwera said the gift, and Rutgers-Newark's involvement, would help improve the country's STEM education infrastructure, which is critical to the growth of Malawi's economy. He  expressed  gratitude to program partners."I'd like to thank them for investing in the future of Malawi, which is now brighter than it was yesterday,'' he said.
Nekotech aims to convert unemployed or low-earning African bachelor's degree holders into professionals with a U.S. master's degree, earning between $80,000 to $200,000 year. Since 2018, its pilot program has successfully processed several African students in STEM fields, including, healthcare, multimedia and business, with candidates from Ghana, Sierra Leone, Malawi, Zambia, Zimbabwe, Kenya and more. 
The organization helps students receive educational loans and provides funding to support the costs of preparing students to obtain visas and complete the process of transferring to a new school overseas.  At the Rutgers-Newark event, Nekotech pledged $2.5 million in scholarship money for its preparatory program.
Said Robinson, "Rutgers-Newark is known for a few things: we have a very diverse population, which includes many students from the African diaspora, and we have a number of flagship programs in STEM that are here and in other places at Rutgers.  It's not that we haven't had African students here before, but this is a specific focus. It's an opportunity to contribute to the global economy.''
Robinson said that a unique aspect of the Nekotech partnership is that it will provide opportunities to African students who have traditionally lacked resources to obtain an advanced degree in the U.S.
"It opens it up to students who may not have had the financial means to do international study for their graduate work,'' he said. "That positions this as a part of a larger conversation around economic development in Africa.'' 
At Rutgers-Newark, the collaboration with Nekotech will support a community of African graduate students in a city and region where there is already a large demographic of African immigrants.
"Newark has several areas of the city that could be called Little Africa,'' said Robinson. "That's why Rutgers becomes another good place to do this. It's in the middle of a metro area that has all of this diversity and people from across the continent living and dwelling here.''
By the fall of next year, it's hoped that the program could begin with 20 students and eventually expand to 100 students a year within the next decade. They will work toward obtaining advanced STEM degrees from Rutgers Business School, the School of Arts and Sciences and Rutgers School of Engineering.
Chakwera is hopeful the program will help Malawi build upon existing efforts to increase STEM education in areas such as artificial intelligence, space exploration, cyber security and digital currency, including pathway programs for gifted children. "I'd like for us to explore ways of linking this program to facilitate the expansion and improvement of Malawi's STEM infrastructure,'' he said.