RU-N Acquires Major Environmental Research Center From the State of New Jersey
The Meadowlands Environmental Research Institute (MERI) Comes Home to RU-N.
 
Rutgers University–Newark is renowned for its scientific research, and those efforts got a big boost recently when the school acquired a premier ecology think tank, the Meadowlands Environmental Research Institute (MERI), from the State of New Jersey.
The acquisition, completed this fall, gives RU-N a multimillion-dollar research center on the Hackensack River estuary along with a sizable research-grant portfolio. It also makes the school an important source of environmental data for state and federal agencies as MERI continues to advance critical scientific research in the Meadowlands region.
And given that MERI was founded at RU-N 18 years ago, it is also something of a homecoming.
MERI Director Francisco Artigas, an associate research professor of environmental science at RU-N, helped start the institute along with Distinguished Professor Nabil Adam, of the Rutgers Business School (RBS), who currently serves as RU-N's Vice Chancellor for Research and Collaborations.
MERI was initially run out of the Center for Information Management Integration and Connectivity (CIMIC) at RBS, which Adam founded. In 2004, it was subsumed by the New Jersey Meadowlands Commission (NJMC), who had provided initial funding for the institute (back when that agency was called the Hackensack Meadowlands Development Commission, or HMDC). NJMC was then merged with the New Jersey Sports and Exposition Authority (NJSEA) in 2014. RU-N formally acquired MERI from NJSEA.
The institute will be run by RU-N's Department of Earth and Environmental Sciences (EES). EES has been involved with MERI since its inception in 1998, receiving early research grants as the center got off the ground. 
Artigas says that bringing the institute back to RU-N is a great fit.
"MERI started at Rutgers-Newark and had been funding researchers from here and other institutions for nearly 20 years," says Artigas. "The New Jersey Meadowlands District and estuary of the lower Hackensack River is only a few miles from campus, and so it will continue to be a great place to train up-and-coming scientists. It makes sense that we are here. We are thrilled to be back and part of Rutgers-Newark."
The bulk of MERI's efforts take place at its Lyndhurst, NJ, headquarters, located in the middle of the Hackensack River estuary.  
The three-story building houses a state-of-the-art Geographical Information System (GIS) for digital cartography; a New Jersey DEP-certified chemical lab to test water, sediment, air and animal tissue for contaminants; a library that houses decades of environmental reports on the New Jersey Meadowlands District; and the nerve center for the remote-sensing environmental-monitoring networks set up throughout the Meadowlands, which read air- and water-quality parameters on the fly.
It's also home to a fleet of boats that researchers take out into the field.
Artigas has a staff of seven scientists, many of whom worked for HMDC/NJMC: chemists who run the lab, field environmental scientists who operate the boats and maintain the remote-sensing system, geospacial specialists who spearhead the GIS, and a librarian.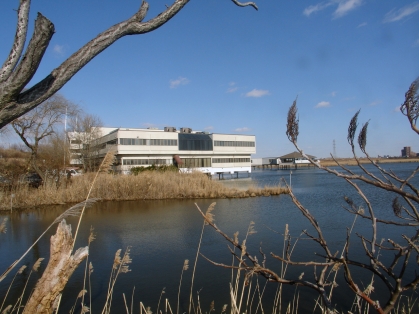 Together, they make MERI hum with a healthy portfolio of federal and private grant money transferred to RU-N with the adoption of the institute, including funds from the EPA, the National Oceanic and Atmospheric Administration (NOAA), and several philanthropic foundations.
RU-N faculty and graduate students have received a large portion of MERI's grant funds dating back to its founding. The recipients have spanned the Departments of Earth and Environmental Science, Biology and Information Science.
The institute has also been collaborating with EES Professor Alec Gates' GS-LSAMP program since 2004, offering valuable training to RU-N minority undergraduate students.
MERI was conceived by HMDC to bring independent, non-partisan science to bear on the environmental degradation plaguing the New Jersey Meadowlands District, a legal and geographical designation including 14 nearby counties that was drawn up in 1969 to rationalize development and bring it in line with the area's ecology.
Decades of industrial discharge into the Hackensack River, plus indiscriminate dumping, proliferation of landfills, and overdevelopment in the Meadowlands have all contributed to contamination of the wetlands, whose ecological importance started to become better understood in the 1970s and '80s.
"The area had gone through the perils of industrialization and was coming out the other side," says Artigas. "Tons of mercury had been dumped into the estuary. In fact, it has been one of the most mercury-contaminated areas in the world, along with PCBs and pesticides. It's an incredible reflection of the industrial era and, as such, continues to provide great opportunities for research and education as we take stock in this space once again."
With its advanced GIS mapping, remote-sensing and lab technology, MERI has become a big player in generating environmental data for local municipalities in the New Jersey Meadowlands District, along with state and federal agencies. It has also spearheaded vital partnerships between universities, organizations and agencies in the name of independent science free from the influence of real-estate interests, municipal lobbying and other forms of political pressure.
That, says Artigas, is crucial to MERI's past and future success.
"Wetlands are hugely productive ecologically speaking, and the New Jersey meadowlands provide an incredible substrate for teaching and research, and are a great location from which to project science into the community," says Artigas. "Rutgers–Newark continues to have a wonderful opportunity to do important science that serves and educates the community, and gets adults and kids involved and invested in the ecological health of their area. I'm proud that MERI and Rutgers-Newark are leading the way."