Restaurant Founded by Dorothea and Jon Bon Jovi to Fight Food Insecurity Celebrates Reopening at Rutgers-Newark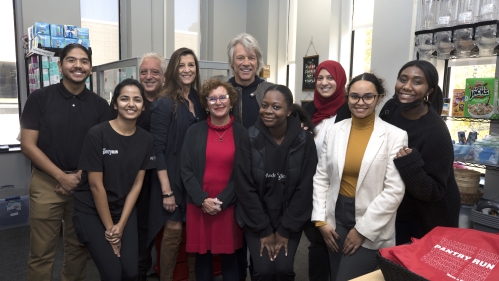 Rock star and Jersey icon Jon Bon Jovi and his wife Dorothea yesterday helped celebrate the grand reopening of JBJ Soul Kitchen, which fights food insecurity on the Rutgers University–Newark campus through donations and volunteer service. 
In partnership with Rutgers-Newark (RU-N) and campus food service provider Gourmet Dining, the Jon Bon Jovi Soul Foundation opened a restaurant at RU-N in January of 2020, its third since establishing JBJ Soul Kitchen in Red Bank 11 years ago and the first on a college campus. But until this semester, the RU-N site hadn't been fully operational since the COVID-19 pandemic began.
"We've been looking forward to this day,'' declared Rutgers-Newark Chancellor Nancy Cantor.
JBJ Soul Kitchen guests sat down to a three-course meal at the restaurant, located at the Paul Robeson Campus Center. As food was served, Jon Bon Jovi and his wife Dorothea Bongiovi, who uses her husband's given name, toured pantryRUN, the campus food pantry, which is connected to the restaurant and shares the same mission as JBJ Soul Kitchen.
"We work hard to make sure that students who are experiencing food insecurity have a dignified experience,'' said Hend El-Buri, the pantry's director.
Jon Bon Jovi said re-opening the RU-N eatery fills an important need. 
"Food insecurity is one of the most critical issues college students face today," he said. "We applaud Gourmet Dining and Rutgers University-Newark, who have made tackling this issue a priority so that students always have a place to go for a great-tasting, healthy meal. We couldn't have found a better place to open our third location and truly believe that when students are supported with basic needs and backed by their community, they can and will go on to do amazing things."
JBJ Soul Kitchen operates by serving healthy, chef-prepared meals to students, faculty and community members who have the ability to pay, in addition to those in need.
Diners are invited to pay-it-forward by making a minimum donation of $12 or using a donated meal plan "swipe.''  They may also volunteer their time by participating in activities around the restaurant or in other campus dining locations to cover the cost of a meal. Yesterday, members of the RU-N campus police, who volunteer weekly, served food and helped with clean up.
Rutgers University-Newark has long been at the forefront of addressing the issue of student food insecurity and has taken a comprehensive approach, opening the food pantry, organizing a care team and working with student organizations dedicated to fighting hunger on campus. Reintroducing JBJ Soul Kitchen provides even greater opportunities for the community to educate and assist one another, said Cantor.
"This is an amazing partnership and central to our values,'' she said. "That the Bon Jovis chose to open JBJ Soul Kitchen here validates who we are and how important it is to be engaged with students, staff and the community. And the restaurant's relationship with the food pantry is a great synergy.''
El-Buri said JBJ Soul Kitchen is a valuable option for pantry visitors who may not cook and those who have a more immediate need. "We tell them, here's a place where you can get food right now,'' she said.
Rutgers-Newark Provost Jeffrey Robinson praised the restaurant's concept and execution. "It's a fantastic example of social entrepreneurship in action, when you build a restaurant that is meeting a social need, you demonstrate the power of a double bottom line.''