Queer Newark Oral History Project Wins Clement A. Price Human Dignity Award
Five-year-old group recognized as ground-breaking in promoting diversity and inclusion.
 
The Queer Newark Oral History Project (QNOHP) has been awarded the Rutgers University Clement A. Price Human Dignity Award for 2016.
The group was recognized for its outstanding leadership in documenting, preserving and promoting the history of LGBTQ lives in Newark, and for its innovative partnerships with community organizations and collaborations among faculty, staff and students.
"The archives provide an invaluable service as a resource for university researchers and community organizers and have been instrumental in opening dialogue about Queer life and politics in Newark," said Barbara Lee, Senior Vice President for Academic Affairs, who delivered the news to group.
QNOHP was started in 2011 by faculty and staff from Rutgers University–Newark (RU-N), together with LGBTQ Newark residents and activists. From the beginning, the goal was to make it a community-based and community-directed initiative, training residents to do oral histories, collecting artifacts of the local LBGTQ community, and building an archive to make these easily accessible to both the public and scholars.
"We wanted ideas to come from the community, not just the academic side," says QNOHP Co-Founder Beryl Satter, a professor of American History at RU-N. "That meant planning programs after we talked at length with community members to see what was most useful for them. It's been a relationship of equals, and the result has been powerful. We'll continue to promote that as the project moves forward."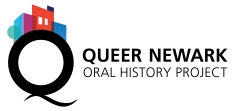 The group has made plenty of progress since its founding, meeting regularly with members of Newark's LGBTQ community, raising funds, holding conferences, recruiting and training staff, building a website, and completing more than two dozen interviews so far.
More than a dozen of those interviews have been transcribed, vetted, and edited and are accessible on the QNOHP site, which has just been revamped and will be debuted at an April 23 Launch Event at the Newark LGBTQ Community Center, just three days before the org receives this latest award.
QNOHP is continuing to build capacity by training additional interviewers in oral history methodology, developing its database, and adding staff to transcribe interviews and deal with the backlog of interview subjects lining up to participate.
In the future, the group hopes to develop curricular materials for local middle schools and high schools. In 2015, it received a $75K award from the RU-N Chancellor's Seed Grant Program, which is aiding its growth.
"This award is particularly moving for us because the project originated with Clem Price's help back in 2011," says Satter. "He was our first sponsor, helped us with funding, and provided us with meeting space—while his staff at the Institute on Ethnicity, Culture, and the Modern Experience guided us in creating a community-outreach program."
The group will receive the award, along with nine other recipients, at a ceremony on April 26 at 15 Washington Street at 10am.
The Clement A. Price Human Dignity Awards honor individuals and groups who have demonstrated extraordinary achievement and commitment to promoting and practicing diversity and inclusion at Rutgers University and in the broader community. Presented by the Committee to Advance Our Common Purposes, they have been given annually since 1999 and are open to all University students, faculty, staff, organizations, departments, and units from Camden, Newark and New Brunswick.
Each recipient receives a citation and a monetary gift, all or a portion of which may be donated to an organization of the recipient's choice for diversity enhancements.
Jan Ellen Lewis, Dean of the Faculty of Arts and Sciences, says QNOHP embodies Price and RU-N's focus on publicly engaged scholarship. "It's simultaneously a genuine collaboration with the community and cutting-edge scholarship," says Lewis.
For more information on the Queer Newark Oral History Project, visit here.
For information on the April 23 Launch Event, which will debut the new website and feature a multimedia presentation of the Queer Newark Oral History Project's work—including archival images + sound clips from interviews—please visit here.
For earlier coverage on the Queer Newark Oral History Project, visit here + here.
Above Photo: Queer Newark Oral History Project founders Professor Beryl Satter (center) and Newark activist/scholar Darnell Moore (right), along with Rodney Gilbert of Yendor Productions