Professor John Keene Earns Wide Acclaim for His Latest Work, "Counternarratives"
Rutgers University–Newark Professor John Keene is as versatile and nimble as they come.
A writer of poetry and fiction; a professor of literature, creative writing and African American studies; a translator of Brazilian authors, as well as texts from Spanish and French, he also has a painting background and has collaborated with illustrators and photographers on his poetry volumes—and on conceptual art installations, such as one on the Iraq War he's been doing since 2002.
Keene's latest collection of stories, Counternarratives, draws from his varied interests and skill-set. It has been hailed by critics as groundbreaking and is his most ambitious work to date.
Started by the author more than a decade ago, it includes 13 novellas and short stories presented chronologically across three eras and geographies, starting with the European colonial period in Brazil and revolutionary America, followed by mid-19th-to-early-20th-century America, and ending in modern-day Africa.
The stories in Counternarratives center mainly on the African diaspora following the introduction of the slave trade to the Americas and on into modernity. They sweep across time and space, exhibiting Keene's acute sense of history (and literature and the arts), while burrowing deep into counterfactual storytelling—as the title suggests—to reveal the imaginative possibilities inherent in fiction.
In "A Letter on the Trials of the Counterreformation in New Lisbon," for example, a Portuguese priest is sent to take over a monastery in Brazil, only to find an invisible order of black slaves controlling, through violence, the visible hierarchies and rituals of daily life.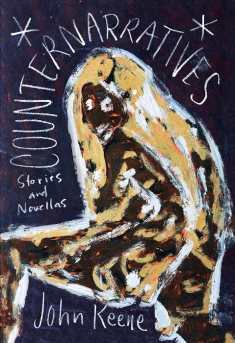 And in "Rivers," the Jim of The Adventures of Huckleberry Finn, now a freedman, enlists in the Union army and is interviewed by a newspaper reporter, who, much to Jim's chagrin, is more interested in his adventure with Huckleberry Finn than his heroic efforts in the Civil War.
The play on, and rewriting of, history, along with literary and historical figures, permeates the collection and serves an important function for Keene.
"I have always been interested in history, particular as it unfolds in and as narrative," says Keene. "Central to all these stories are questions such as: What meanings do we derive from that process of coming to know and believe certain things? How do large-scale master-narratives, which affect the lives of millions, come into being, and what might counter-models look like? These stories and novellas suggest some answers, while raising other important questions."
The figures whose lives Keene explores range from the obscure (Bob Cole and Olga Kaira) to the famous (W.E.B. DuBois and Langston Hughes).
Cole was a late-19th-century African-American songwriter who co-wrote the musical A Trip to Coontown and drowned himself in a stream in the Catskills. In the story "Cold," Keene gives a detailed, second-person account of the hours leading up to his suicide, interspersing Cole's suicidal breakdown with the songwriter's own lyrics.
In "Persons and Places," Keene juxtaposes two imagined diary entrees from the same day in 1890 by W.E.B. DuBois and the philosopher George Santayana, while in "Blues," Hughes and fellow poet Xavier Villaurrutia meet for a romantic encounter in Depression-era New York.
Keene says that reimagining the lives of his lesser-known figures brings them to life and introduces them to a broader public while also entering the rich and complex worlds in which they lived.
"With better-known people like Hughes, I was curious to explore semi-hidden aspects of their experiences," says Keene. "Fiction in this case approximates a movie camera that we can carry into the past, and with an operative script, we are able to capture and share quite a bit."
But Keene the auteur doesn't stop there.
In Counternarratives, he draws from a handful of genres, including epistolary fictions, encounter narratives, magical realism, ghost stories, biography and academic history writing.
He also subverts narrative form in the style of Jorge Luis Borges, presenting his tales through archival documents such as newspaper clippings, found diaries, letters and obscure scholarly texts.
One such story, about a Haitian slave girl brought by her owner to an early-19th-century Kentucky convent, is structured as a footnote to a reference work on early American Catholicism. Another, a biography of a New England slave seeking his freedom from colonists fighting against British forces, could be mistaken as a chapter from a history book, with maps, subheadings and quotations from primary archival documents.
"I felt that the use of various kinds of documentation, media and intertexts—many of which I invented—might ground the narratives' attempts at authenticity and authority, even as the stories themselves are critiquing the very idea of historical knowledge, authority and objectivity," says Keene.
Keene's literary acrobatics have not gone unnoticed. Counternarratives has received rave reviews from media outlets such as Harper's magazine, The Nation, the Wall Street Journal, New York Magazine, Publishers Weekly, The Paris Review and Book Forum.
Board of Governors Professor Jayne Anne Phillips, acclaimed novelist and Director of RU-N's MFA in Creative Writing Program, recently heaped praise of her own on Keene's latest effort.
"Counternarratives, revolutionary in its historical scope, magically astute language and characterizations that span centuries, is an exhilarating, completely original achievement," says Phillips. "It should win this year's Pulitzer Prize for Fiction."