Juvenile Justice Conference Attracts Statewide Audience to RU-N
In 2013, Paul Boxer applied for an Excellence in Violence Prevention grant from the U.S. Centers for Disease Control.
Boxer, a Professor of Psychology and Senior Fellow in the School of Criminal Justice at Rutgers University–Newark, studies the development, prevention and treatment of violent and nonviolent antisocial behavior, particularly among youths involved in the juvenile justice system.
The CDC funds did not materialize. "We had no center or community collaborative to compete for that grant," he says.
Fast-forward to 2017, and the picture looks starkly different.
Boxer, who is now Director of the Rutgers Center on Youth Violence and Juvenile Justice, recently brought together 150 people from across New Jersey for the Second Annual Conference on Youth Development and Juvenile Justice at Rutgers University–Newark.
The attendees, from government agencies, universities, nonprofits and the law and healthcare fields, gathered for the one-day conference at the Rutgers School of Law to take part in presentations and panel discussions covering topics such as trauma, wrongful convictions, and juvenile justice reform.
Among the presenters was Steven Drizin, a Clinical Professor of Law at Northwestern University. Drizin is an expert on juvenile justice–related issues and helped lead the successful effort to outlaw the juvenile death penalty nationally.
He presented on the 50th anniversary of the U.S. Supreme Court's landmark 1967 decision In re Gault et al., which held that juveniles accused of crimes in a delinquency proceeding must be afforded many of the same due process rights as adults.
"We started the conference in 2016 as a venue to discuss cutting-edge issues around juvenile justice," says Boxer. "Having top people such as Steven Drizin talk about interrogations and wrongful convictions is exactly what we'd envisioned."
The conference, and the center he is now directing, are the culmination of years of work, stemming from Boxer's failed attempt to get those CDC funds back in 2013.
During that process, Boxer made many contacts in the Newark juvenile justice community, prompting him to start an initiative called the Greater Newark Youth Violence Consortium the following year.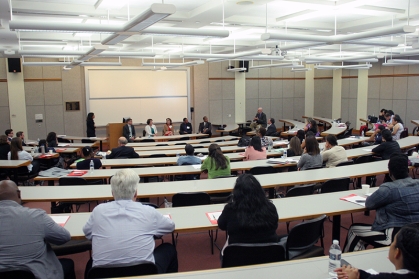 Through the Consortium, Boxer brought together 35 people to talk about issues and identify gaps in serving Newark's juvenile population. They made headway almost immediately.
In its first year, Boxer, along with RU-N students and various agencies, partnered with Newark Police Department (NPD) and Essex County Prosecutor to develop a program with NPD's Youth Aid Section to offer social service–provider referrals to parents of kids arrested on first-time robbery offenses.
The initiative was voluntary for the parents, and many, though not all, took NPD up on the offer. A year in, a study found that for the children of parents who accepted a referral and engaged with area social services, the recidivism rate was 0 percent. It was 26 percent for kids whose parents declined.
"The upshot is that it cost nothing to do this," says Boxer. The program has since expanded to include other offenses deemed gateways to violent crime, such as weapons charges and illicit-substance possession with the intent to distribute.
But Boxer had a bigger vision in mind, and in 2015 he received the first of two Chancellor's Seed Grants to morph the Consortium into the Rutgers Center on Youth Violence and Juvenile Justice, a multidisciplinary center linking RU-N and Rutgers Biomedical and Health Sciences (RBHS) faculty to community and government entities around the issues youth violence and juvenile justice.
He recruited as Center co-directors Steve Silverstein, a Professor of Psychiatry at RBHS, and Professor Laura Cohen from the Rutgers University School of Law.
The conferences were a natural next step to widen the circle and expand the conversation, first locally, then statewide. Boxer hopes to make them national starting next year.
"We want folks from around the country to spend a few days with us in Newark," Boxer says. "In that way, the center will also gain visibility and be able to compete for large-scale federal funding to expand into a full-fledged academic research operation. Our goal is to be a nationally recognized hub for interdisciplinary research and programming on juvenile justice and youth violence issues, and present our research in a way that's accessible to folks who work around these issues. We have a ways to go, but we're definitely making progress."
Photos by Lawrence Lerner