International Conference Shares Latest Research on African Americans and Alzheimer's Disease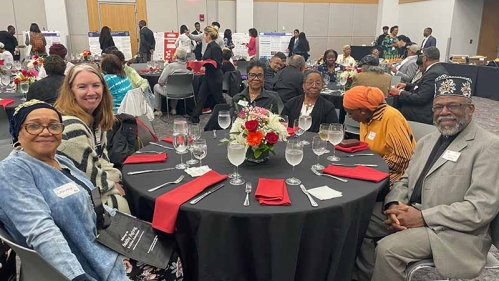 Nearly 200 people converged at Rutgers-Newark recently to examine African Americans' heightened risk of developing Alzheimer's Disease – as well as the obstacles faced by researchers.
The daylong conference, "Risk and Resilience to Alzheimer's Disease in African Americans," was hosted by the University's Aging & Brain Health Alliance.
Participants heard from researchers from six states and one foreign country, as well as representatives from the Alzheimer's Association and the National Institute on Aging. Interspersed throughout the day were breaks for exercise and chocolate – both of which have been shown to promote brain health.
"This conference was unique for two reasons: First, it brought together an interdisciplinary collection of scientists and doctors from around world who are working on understanding why African Americans have such high rates of Alzheimer's disease," said Dr. Mark Gluck, PhD, conference organizer.
"Second, the evening scientific poster session, reception and banquet mixed about 70 scientists and students with over 100 older African-American community members from greater Newark who are contributing to research at Rutgers as participants in our research studies on Pathways to Healthy Aging in African Americans," he said.
Why hold a conference when most of that research is available online?
Prof. Adesola Ogunniyi, from Ibadan University in Nigeria, had a quick explanation for why he traveled so far to attend in person:
"Listening to people directly is better," he said. "You have the chance to interact with people." That can't be accomplished by email, he said: "It's not the same. You want to put a face to the name, so when you see them again, you connect immediately."
Morning sessions looked at the epidemiology of the disease, with researchers from Missouri, Wisconsin, and Nigeria presenting findings on Alzheimer's Disease risk factors among African Americans.
Gluck, director of the Aging & Brain Health Alliance and a professor of Neuroscience and Public Health, joined the afternoon panel focusing on fitness and prevention issues. His session on interactions between physical fitness and genetics on behavioral and biological markers of Alzheimer's risk in African-Americans flowed from his lab's study of the benefits of weekly exercise sessions on participants.
Another Rutgers-based researcher, Dr. William Hu, a neurologist with Rutgers Biomedical and Health Services, explored genetic susceptibility and imaging biomarkers.
Long before any of these findings could be presented, however, researchers had to attract African Americans  participants in their projects – a task that remains difficult.
Mistrust of the medical research community is widespread, conference participants said, because of earlier exploitation of Black subjects. African Americans may shy away from joining studies, which means science cannot come up with the "precision medicine" that tailors treatment to an individual, said Damali Martin of the National Institute on Aging of the National Institutes of Health.
Overcoming that suspicion takes time, explained Dr. Carl V Hill, Ph.D., MPH, the chief diversity, equity and inclusion officer for the Alzheimer's Association.
He cited his organization's initial attempt to collaborate with the national leadership of the American Methodist Episcopal Church, one of the largest faith groups among African Americans.
Church representatives revealed that their reluctance to participate was mostly due to all the white faces illustrating Association brochures and pamphlets.  "We don't see ourselves here,'" Hill said he was told.
African Americans are also less likely to receive their health care from people of color, which doesn't help instill trust. For that reason, his organization seeks to create a pipeline of future neurologists by reaching out to high schools and Historically Black Colleges and Universities (HBCU.)
When pitching the field to students, Hill emphasizes the heightened risk for Blacks combined with the paucity of African-American health care workers to treat them. "That's a justice issue, not a medical issue," he said.
"Our families need to feel they belong when they go for dementia care," he tells them.
There was a place for such up-and-coming researchers at the conference itself, which funded travel fellowships for nine college students. They presented their research in poster form at the conference's evening reception.
Three of the leading pharmaceutical companies working towards new drugs for Alzheimer's disease were participants and financial supporters of the meeting, including Eli Lilly & Co., Eisai Pharmaceuticals and Genentech/Roche. Representatives from all three echoed concern about enrolling more African Americans in future clinical trials.
One barrier to African-American participation in clinical trials of drugs in development may be the very criteria used to diagnose Alzheimer's Disease, explained Martin, of the National Institutes of Aging.
Researchers have gotten better at attracting African American participants in clinical trials, but an unusual percentage of those would-be study subjects are dropped later in the screening process because they don't have enough of the hallmarks of the disease – the build-up of amyloid plaques.
Yet these people already show behavioral symptoms of dementia, Martin said, and might conceivably benefit from drugs offered in the trials. The solution might be for the designers of future clinical trials to change that threshold so more African Americans make it through the screening process, she said.
The conference concluded on a festive note with rousing performances by three local community groups: The St. Matthews AME gospel choir, the Women's Dance Ministry of Franklin St. John United Methodist Church, and the East Orange Senior Center Silver Steppers dance troupe.