Humanities Education Grant to Help Incarcerated, Re-Entry Students See the Big Picture
(Newark, NJ – Oct. 25, 2018) -- Barry Pinckney knows firsthand how disorienting incarceration can be. During his 11 years in prison, he wondered not only about how he would make a living when he got out, but about the forces in his life that led to his imprisonment in the first place and what he could do to escape them. He knew he needed not only job skills, but a way to better understand himself and the world that shaped him. The New Jersey Scholarship and Transformative Education in Prisons Consortium (NJ-STEP) will give students like Pinckney both, thanks to a $1.5 million grant from the Andrew W. Mellon Foundation.
He is one of the more than 1,300 students who have completed courses through NJ-STEP since its founding six years ago. With the Mellon Foundation's support for strengthening humanities education in NJ-STEP, Pinckney is emblematic of the students who can benefit from a new minor in humanities, anchored by the kinds of context-setting courses that help us better understand ourselves and the world.
"My education through NJ-STEP has helped me understand my life from the beginning to now," says Pinckney. "Now that I understand why certain things happen, I can address them and use my experience to help others at a young age and even their parents." 
NJ-STEP is an association of higher education institutions, based at Rutgers University–Newark, that works with the New Jersey Department of Corrections and State Parole Board to provide college courses for incarcerated individuals and help them transition to college life upon their release.
NJ-STEP coordinates courses for an associate's degree, credited by Raritan Valley Community College, followed by a bachelor's degree in justice studies from Rutgers University–Newark. Thanks to the Mellon Foundation grant, a minor in humanities will be added to the program. Humanities courses focus on the study of human culture, and include such disciplines as languages, literature, philosophy, history, and religion.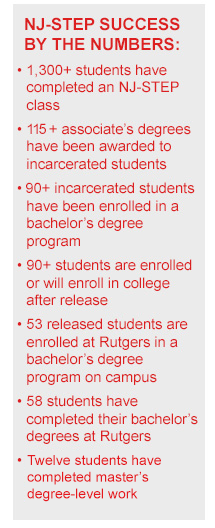 "Humanities courses help these students understand their position in a larger social context," says Johanna Schoen, associate chair of the history department in the School of Arts and Sciences at Rutgers University–New Brunswick, who is helping to create the humanities curriculum. "Assigning biographical readings that echo the students' familiar experiences allows them to reflect on their own background and express themselves in constructive ways." In addition, the Mellon Foundation grant is intended to encourage full-time faculty to teach in New Jersey's correctional facilities. While previously faculty who wanted to teach in prisons had to do so on overload, the arts and sciences deans across all Rutgers locations—in Camden, Newark, and New Brunswick—are prepared to count teaching in NJ-STEP as part of the normal teaching load.  
Rutgers faculty will design up to three rotating humanities electives to accompany the justice studies major, and a director of pedagogy will be hired. In addition, a capstone research course will be designed in cooperation with Humanities Action Lab, a national coalition that leads humanities projects on urgent social issues.
"There's a value-add when these students come back to our campus," says Christopher Agans, NJ-STEP's acting director and director of transitions. "They bring a lived experience, a tenacity for working in adverse conditions, and a sense of community and obligation to each other." Many of the program's graduates have gone on to careers in social work, nonprofit management, policy, and advocacy, serving populations that have a high rate of imprisonment, says Agans.
After his release, NJ-STEP helped him transition to on-campus classes at Rutgers–Newark, where he will graduate with a bachelor's degree in justice studies in December.
The grant also supports the establishment of a learning community of faculty, staff, and students—both those incarcerated and those on campus—that will work with NJ-STEP as professors, advisers, and peer tutors. Often, students who have transitioned out of prison to campus return to serve as mentors for students who remain inside.
"Our success is linked," says Pinckney, referring to other students in the program as his "STEP brothers and sisters."
 "NJ-STEP is helping people have a chance they never got," he adds, "a chance to experience the American dream."