Fiserv and Rutgers-Newark Celebrate Commitment to New Jersey's Minority Business Owners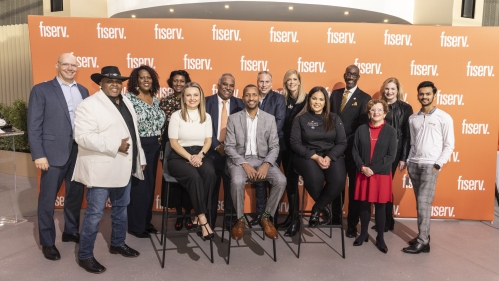 Fiserv, Inc. and Rutgers University–Newark celebrated their commitment to minority business owners in New Jersey last week at an event announcing the statewide launch of the financial tech company's Back2Business program, which will support the state's minority-owned small businesses with a total of $1 million in funding.
The event was held at the Fiserv flagship Innovation Center in Berkeley Heights, which officially opened in November, and featured remarks from Rutgers-Newark Provost Jeffrey Robinson, a professor at Rutgers Business School. 
Robinson praised Fiserv, a leading global provider of financial services and technology solutions, for supporting underrepresented business owners in New Jersey. Those efforts include the Fiserv-RU-Newark Program for Inclusive Innovation, an on-campus effort started this year to drive diversity and innovation within the financial technology field.  
The Fiserv-RU-Newark Program for Inclusive Innovation will serve as a research and incubation space for the RU-N community and local businesses, provide annual scholarships for undergraduate students over a five-year time span, and support career modules to prepare students for internships and jobs.
"The people at Fiserv are being innovative leaders thinking about how to create more innovators and entrepreneurs,'' said Robinson. "This partnership with RU-N matters, not only for the economy of New Jersey but the economy of the United States.''
At the event, Fiserv announced that minority-owned small businesses based in New Jersey can  apply to receive a $10,000 grant and access critical resources including complimentary small business coaching and community partnerships.  
The first three New Jersey Back2Business recipients were presented with $10,000 checks. Among the three was Tennille Ortiz, who owns Cupcake Carriage, a mobile business that sells gourmet cupcakes created by her Hoboken-based company. She is a graduate of Rutgers Center for Urban Entrepreneurship & Economic Development's (CUEED) Entrepreneurship Pioneers Initiative (EPI), a Newark-based program supporting first-generation entrepreneurs. 
"My goal is to add more corporate clients, build a larger team, purchase more equipment and acquire the resources needed to meet demand," said Ortiz, who grew up in Harlem.  "I would also love to go back to my community and teach other inner-city kids about the world of entrepreneurship so that they are given a positive path to gain control of their futures."
During the ceremony, Ortiz acknowledged the EPI program at Rutgers-Newark. "The opportunity was priceless and I'm grateful," she said.
Later, Ortiz credited the initiative with helping her develop her company. "It allowed me to grow,'' she said. "I'm a creative, so it helped me understand the business end of things and helped me set goals."
The other grant recipients announced at the Fiserv ceremony included Aleksandra Miloseska, who owns Quick Fit Bites, which makes snacks made from all-natural and organic ingredients, and Audley Wilson of Roboburger, the first plug-in burger chef in a box, which cooks a burger from scratch at the press of the button and is based in Newark.
RU-N Chancellor Nancy Cantor, who attended the Fiserv event, lauded the company for its genuine desire to provide resources for minority business owners and the Rutgers-Newark students who will benefit from the Fiserv-RU-N Program for Inclusive Innovation..
"I think it's amazingly special what they are doing in New Jersey," she said. "Small businesses build community. They see that — and they are really committed to building a diverse and inclusive talent pipeline. It's authentic."
"Small businesses are the backbone of our communities and providing additional resources through programs like Back2Business can help ensure they succeed in today's challenging economy," said Neil Wilcox, head of Corporate Social Responsibility at Fiserv. "We're proud to be giving back as we continue to grow our presence and impact in New Jersey."  
Fiserv and the grant recipients were joined at the event by community partners the African American Chamber of Commerce of New Jersey, Gateway Regional Chamber of Commerce, Statewide Hispanic Chamber of Commerce, and B.I.G. (Believe, Inspire, Grow.)

About Fiserv Back2Business
Recognizing the resilience – and needs – of diverse businesses during challenging times, the Back2Business program was launched in 2020 with a $50 million commitment. In addition to monetary grants, Back2Business connects minority-owned small businesses with critical resources, including complimentary business coaching, community partners, and leading technology solutions such as the Clover® point-of-sale and business management platform from Fiserv. In addition to New Jersey, Fiserv has sponsored Back2Business across the country, including New York, Florida, Georgia, Nebraska, California, Texas, Oklahoma and Wisconsin, and in the U.K. To date, the program has distributed more than 1,500 grants to small businesses.

Grant Applications Now Open
Fiserv is now accepting grant applications from eligible minority-owned small businesses based in New Jersey, with $1 million dedicated to the statewide program. Each selected business will receive $10,000. Small businesses must have revenues of less than $1 million annually, be founded prior to June 1, 2021 and have fewer than 11 employees. Grants will be administered in partnership with the Association for Enterprise Opportunity (AEO), a leading national voice for underserved entrepreneurs. Applications can be submitted at https://aeoworks.org/fiserv/ and 
About Fiserv 
Fiserv, Inc. (NASDAQ: FISV) aspires to move money and information in a way that moves the world. As a global leader in payments and financial technology, the company helps clients achieve best-in-class results through a commitment to innovation and excellence in areas including account processing and digital banking solutions; card issuer processing and network services; payments; e-commerce; merchant acquiring and processing; and the Clover® cloud-based point-of-sale and business management platform. Fiserv is a member of the S&P 500® Index, the FORTUNE® 500, and has been recognized as one of FORTUNE World's Most Admired Companies® for 11 of the past 14 years and named among the World's Most Innovative Companies by Fast Company for two consecutive years. Visit fiserv.com and follow on social media for more information and the latest company news. 

About Rutgers-Newark
Rutgers University–Newark (RU-N) is a diverse, urban, public research university that is an anchor institution in New Jersey's cultural capital. It has a remarkable legacy of producing high-impact scholarship that is connected to the great questions and challenges of our time. Rutgers-Newark is in and of a city and region where its work on local issues, undertaken with partners from many sectors, resonates powerfully throughout our urbanizing world.