Cuban Dignitaries Visit Rutgers-Newark to Discuss Broadening Educational Exchange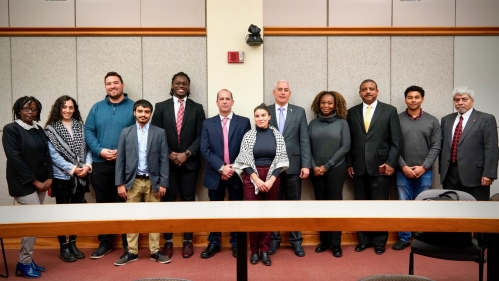 Rutgers-Newark leaders and students met with dignitaries from Cuba to discuss expanding opportunities for cultural and intellectual exchange through travel.
For the past 20 years, Rutgers Law School students, led by Newark-based law professor Charles Auffant, have studied in Cuba as part of a two-credit seminar exploring the historical development of Cuba's legal system. The trip, hosted by the National Union of Cuban Jurists, is coordinated with faculty members from the University of Havana and practicing attorneys.
"Our knowledge and friendship with the Cuban people has grown,'' said Auffant.
Building on that foundation, administrators and faculty would like to provide opportunities for others at RU-N, especially graduate students, to travel to Cuba and learn more about its art, culture, economy, scientific research and healthcare system, they said.
"We want to have more robust interactions with Cuba,'' said Executive Vice-Chancellor Sherri-Ann Butterfield.  "We're thinking about ways we can expand this relationship.''
Butterfield and Auffant were among dozens of members of the Rutgers-Newark community who met with the Cuban representatives, including Provost and Executive Vice Chancellor Jeffrey Robinson, all of the deans, and faculty and students from across the university's schools.
The Cuban representatives, including Gerardo Penalver Portal, United Nations ambassador, said they welcomed a deeper exchange between Rutgers-Newark and institutions in Cuba..
"Cuba is not known enough by the American public. We want to build bridges between Cuban and American universities,'' said Penalver Portal, who is Cuba's First Deputy Minister for Foreign Affairs.
In 1960, one year after Cuba's communist revolution, the U.S. imposed a trade embargo against the nation that's still in effect. There have also been decades of travel restrictions, which have loosened for Americans in recent years. 
A history of political tension between the two nations has complicated efforts for Cubans and Americans to forge relationships as individuals, scholars and professionals, the Cuban officials said. 
Greater involvement with Rutgers-Newark could help change that. " Exchanges like this help us get to know each other and break prejudices,'' said Penalver Portal.
The meeting was a chance for the RU-N community to learn more about life in Cuba and its political relationship with the U.S. But it also provided an opportunity for Rutgers-Newark faculty and leaders to share information about the history of RU-N and its programs.
"I'm so pleased that you're here. This institution's best qualities came from the struggle for Black students to open doors for Black and brown students and working class students,'' said Auffant, referring to the Black Organization of Students' 1969 takeover of Conklin Hall, in which demands for more students of color paved the way for RU-N's present-day status as one of the most diverse schools in the nation. 
Added Auffant, "Our law school is also thought to be one of the best in the state of New Jersey.'' Auffant, an alumnus, said his Rutgers Law education was life-changing.
Rutgers Law School Dean Johanna Bond described the school's strong clinical programs, which aid people who could not otherwise afford representation, including immigrants and those in need of affordable housing.
"We're proud of the activist history of this institution,'' she said. 
Jason Cortes, chair of SASN Spanish & Portuguese Studies department, described how valuable it was for him to travel to Cuba as part of his research.
"My department is committed to the culture and analysis of literature and language,'' said Cortes, who studies the work of Caribbean writers and intellectuals,  including those from Cuba. "It was an incredible experience.''
Despite the history of political turmoil and divides between the U.S. and Cuba, Penalver Portal expressed hope that an exchange would allow the two nations to benefit from each other's knowledge. 
"Scientists, students, academicians: they are the ones that bring the possibility for our countries to get closer. Better relations between the U.S. and Cuba are possible,'' he said. 
"Even with these differences, Cubans know we don't have a problem with the American people.''