Criminal Justice Major and NJ-Step Grad Works to Prevent Violence, Trauma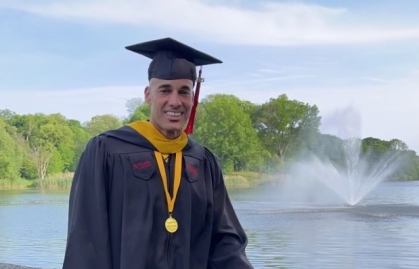 After graduating with a Criminal Justice degree in the spring, Sammy Quiles says he is realizing potential that was hidden from him as an abused neglected child sentenced to 30 years in prison for a crime he committed at age 17.
In 2013, Quiles enrolled in the NJ-STEP program, which provides a college education to the incarcerated. He is now an outreach worker for the City of Newark in the Office of Violence Intervention and Trauma Recovery, providing the kind of understanding and support to others that he was denied in his youth.
"I just want to make sure that there's an alternative to calling the police,'' he says. "I'm there to  connect them with the services they need. Because I'm bilingual in a Spanish-speaking community that's growing, I want to make sure they have a voice.''
As a child in Lakewood, Quiles suffered abuse and neglect at home. When he acted out at school, he was punished and classified as a special education student.
"I was labeled as unintelligent,'' says Quiles, who also works as a research assistant for the Department of Urban Education in the School of Arts and Sciences-Newark.
Later, the consequences for violating curfew and joyriding in stolen cars entrenched him in the juvenile justice system, setting him on a path that seemed irreversible. At 17, he committed a robbery with friends that resulted in a victim's death.
Although Quiles, a minor, wasn't directly responsible for the killing, he was given a 30-year sentence and branded a "superpredator.''
Today, he assumes accountability for his role in the crime but wants to help change a system that focuses more on "retribution" than helping damaged kids, says Quiles.
As part of Quiles journey to become "a better person,'' he enrolled in the NJ-STEP program. "NJ-STEP was crucial to my transformation. I was a high school drop out and had no idea how to maneuver the bureaucratic aspects of higher education. NJ-STEP staff were there every step of the way and hands on," says Quiles. "They gave me resources, energy, patience, love and fed me when I was hungry.'' 
Through NJ-STEP, an education in the humanities awakened him to new ideas and his own capabilities.
"I got introduced to all these concepts and theories I never saw in my academic experience as a child, and I was able to do the work,'' says Quiles, who was released in February but was able to attend classes from a correctional halfway house since September 2022. In May, he graduated summa cum laude.
Quiles learned about the history of indigenous people, including the Taino of Puerto Rico, his parents' homeland, which made a deep impression.
"Indigenous cultures have more of a biocentric culture,'' he says. "It helped me connect more with life.''
He chose to major in Criminal Justice to learn more about the forces involved in creating and sustaining mass incarceration. He learned how restorative justice programs can provide an alternative. 
"The School of Criminal Justice helped equip me with the vernacular I needed to speak in a way that's academic and well-informed, but I still have the experience to show you how it all works. There can be a disconnect between theory and practice, and I'm a human being that's been practiced upon,'' says Quiles.
Since his release from prison, he has been trying to adjust to his newfound independence and a different world, with technology that didn't exist before his imprisonment.
NJ-STEP not only helped him thrive as a student in prison but has been a key part of his transition. 
"It really is a community,'' he says. "They understand the adage, it takes a village. That's exactly what they did for me.''