Chancellor Cantor addresses 2,300 RU-N Graduates
Chancellor Cantor Opening Remarks
It is so wonderful to be here with so many amazing graduates of the class of 2017 (does that sound good!) and so many family and friends, and their extended web of love, support, and hopes and dreams that they have given to you, our graduates.  Here too are members of the Rutgers-Newark family, faculty and staff, who could not be happier as we watch you graduate today, many of you as the first in your families. 
We are cheering as you go off to pursue graduate degrees in STEM after participating in our Garden State LSAMP program.  We are clapping, as you get ready to try your hands as experimental filmmakers after honing your craft at Express Newark, our university-community arts collaboratory in downtown Newark.  We are in awe as you prepare to jump into the world of business start-ups inspired by the accelerator, the Newark Venture Partners, on the 7th floor of 1 Washington.  We stand with much anticipation, knowing how you are going to change for the better the worlds of criminal justice and public administration.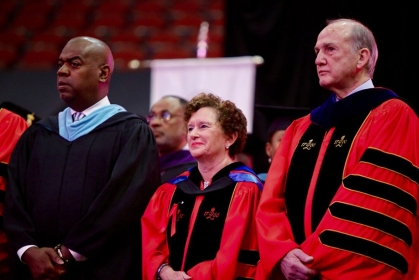 We have so much to celebrate today because those are only a fraction of the many paths that you, the class of 2017 will take – and we take a bit of pride that some of it started right here, extending dreams that started way before.  Some of you began as 8th graders in the Newark Public Schools chosen to be Rutgers Future Scholars; others were students in the Mountainview Program of NJ Step, formerly incarcerated and now, today, coming forth as triumphant members of this graduating class.  Some of you came to us as proud veterans; others came as hard-working DREAMERS and leave with
Listen to the poetry of one of your peers, Maryam Sheikh, writing in Scarlet Magazine's latest issue, an issue dedicated to being bold and fearless.  In a poem entitled: Love, the Daughter of an Immigrant, she writes:
This language
laughs at my mother
as she takes her chances with its words
again and again, with a nervous laughter,
to cover up her sense of defeat.
She has raised her daughter in the soil of this land.
And yet, it mocks her everyday
in the shape of the women across the counter,
the man on the other end of the line,
and the children who laugh to one another
at the way this woman's accent taints their language.
I have never seen a woman
light up so bright
because she has simply learned to pronounce
a single word
of the language that has told her
again and again that she does not suit its use.
Little do they know,
she has built me
an entire kingdom
only off her immigrant tongue
 
Yes, your families and friends have built entire kingdoms for you and in you, and you are ready to take that widened berth for belongingness to the world.  You are ready to hear in someone's words, however they are pronounced, the opportunity for making something great together. You are ready to see in someone's face the potential to defy canonical expectations that falsely and hurtfully limit them and therefore limit all of us. You are ready to be bold and fearless, not by yourself and not only for yourself, but together.
dreams galore.  Yes, what is special about a graduation is that it defines an extended family of belonging – we are all now a part of your dreams.
For commencement is the very definition of belonging, and in a world where belonging is a troubled concept, you, our graduates and your families and friends un-trouble it for us all today.  You give us calm today, as we look around this room at such glorious diversity, such vibrancy, such optimistic aspiration – yes, we can all come together, as we are today to celebrate you.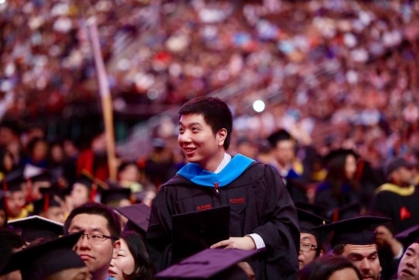 You are ready, in part because you have learned and cheered and cried amidst the many hues, and languages and faiths and ways of loving, that have defined your community.  That is certainly true here at Rutgers-Newark, here in this great city of Newark, full of generations of difference, and here in this country where other than the rightfully Native Americans, most people came from somewhere else, even if they have forgotten it over generations. 
Yes, like you, everyone came with dreams to accomplish – as you have today, even as you are not done re-defining for us all, that concept of belonging.  For, as Zeinab Said – who is graduating today – said in introducing this issue of Scarlet Magazine, "we live in a world filled with people who judge each other and are not willing to give one another a chance." 
True enough.  But I sincerely hope that you have come to see in your time here, that dreams are best fulfilled together, and to do that you have to give one another a chance, as you hope they will give you.  So embrace difference and stretch the limits of belonging as far as they will go, because being yourself involves in no small part seeing lots of others in yourself. 
Which brings me to what may be the biggest cliché and understatement of the day – it is important that you are graduating today.  Important because you will not take difference and diversity for granted, you will work on it. Important because others are not doing a good enough job working on it, succumbing instead to zero-sum thinking that gets us nowhere.  The greatest innovations from business to science to public policy to the arts to the law, in the criminal justice system, in government, in international relations and national security, come when people come together with different knowledge, different perspectives and experiences, even different identities to create what systems theorist Scott Page calls a "diversity bonus."  
This is a time when the challenges of our world, from technology to education reform to economic development to civic democracy are so complex, they need all that talent, all your talent, working hard to learn how to work together and thus reap that diversity bonus.  We hope you got a head start on that work here at Rutgers-Newark in a global city that knows both the tough road to progress and the way to celebrate 350 years of walking that road together. 
It is a long and winding road, you need a lot of good social capital (so remember your Rutgers-Newark friends), and a proper mixture of pragmatism and idealism, humility and ego – after all, you did it here, you can do it everywhere! 
Just remember that educational attainment is the great divider in this world, and you have crossed over one big divide, so now work together to bring more people with you. Stretch the concept of belonging, enlarge the tent of opportunity, for yourself, as you deserve the private gain that education brings, and for all of us, as we deserve as a society and a world the public good that education also brings.  Congratulations! We will be watching for great things to come!
Honorary Degree Citation for Dr. Arthur James Hicks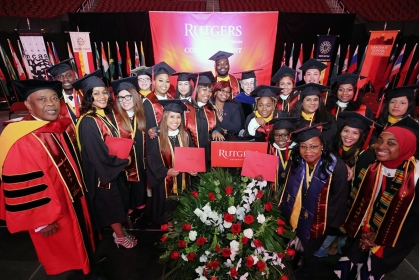 It is now my enormous pleasure to confer an honorary degree to one of our nation's most forthright champions of broadening participation in Science, Technology, Engineering and Mathematics, a steadfast public servant at the National Science Foundation, Dr. Arthur James Hicks will you join me at the podium.
Arthur James Hicks, since taking the mantle as Director of the Louis Stokes Alliance for Minority Participation nearly two decades ago, you have built it into a national model, an award-winning diversity program that is responsible for more than a half million underrepresented minority students graduating with STEM degrees in colleges and universities throughout the nation, greatly expanding the talent pool for innovation, excellence and discovery. Now boasting more than 45 alliances, LSAMP brings together universities, national laboratories, industries, and local, state, and federal agencies, all committed to widening the talent pool for STEM.  Drawing on the lessons learned from your own distinguished career as a professor and chairperson of the department of biology and then dean of arts & sciences at North Carolina A&T, contributions that garnered you among other awards, the Faculty Award for Science and Technology from the White House Initiative on Historically Black Colleges and Universities in 1988, you understand firsthand the formula for success built upon mentoring and research experiences that guide students along a pathway to achievement. Always looking for new avenues of innovation, you have added the Bridges to the Doctorate and Bridges to the Baccalaureate programs, the latter of which has benefitted thousands of New Jersey residents as they make a seamless transition from community college to four year institutions as part of our Garden State LSAMP consortium, which the White House designated as a Bright Spot in Hispanic Education in 2015.  For your extraordinary service to the nation in showing what it means to cultivate talent broadly, to catalyze partnerships that persist for decades, and to never cease in looking for new ways to create opportunity through diversity that enriches the public good, we are pleased to bestow upon you the honorary doctorate.
Arthur James Hicks, by virtue of the authority vested in me by the Boards of Governors and Trustees of Rutgers, The State University of New Jersey, I am pleased to confer upon you, honoris causa, the degree of Doctor of Science, with all rights, responsibilities, privileges, and immunities appertaining thereto.  Congratulations!
Honorary Degree Citation for Dr. Eboo Patel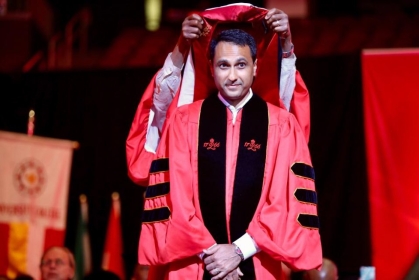 And now it is my true privilege to welcome our commencement speaker and honorary degree awardee, Eboo Patel, founder of Interfaith Youth Corp, Rhodes Scholar, eminent sociologist of religion, and national thought leader for the value of religious pluralism in a well-functioning democracy.  Eboo is someone I have known for many years and I have watched him inspire a movement across college campuses, a movement built on intergroup dialogue and intercultural cooperation and grassroots service.  He is someone who puts his full faith in our ability to come together, to listen and to hear each other, to trust that we have more in common with each other than we do differences, even as our distinctive identities – personal, familial and community-based, give us strength to bridge those apparent differences.
Eboo has been bridging differences for a long time, as he explores in his award-winning autobiography, Acts of Faith: The Story of an American Muslim, the Struggle for the Soul of a Generation, writing: "I am an American Muslim from India.  My adolescence was a series of rejections, one after another, of the various dimensions of my heritage and the belief that America, India, and Islam could not co-exist within the same being… My struggle to understand the traditions I belong to as mutually enriching rather than mutually exclusive, is the story of a generation of young people standing at the crossroads of inheritance and discovery trying to look both ways at once."  And that is what he has always done, spending intense time with many faith groups, in active service and in fulsome discovery, be it at the Catholic Worker Houses in Chicago, volunteering at a homeless shelter run by evangelical Christians in Atlanta, practicing Buddhist meditation and making a pilgrimage to the Dalai Lama in India, and visiting his grandmother in Mumbai, coming full circle to his own tradition of service and humanitarianism in Islam.  This fulsome journey is one that so few have taken the time to traverse in our now so divided and all too thoughtless world of difference – a world to which Eboo gives a new vision "for a healthy religiously diverse democracy" – a world where people who disagree on some fundamental things, as he says, can still work together on other fundamental things.  A world where, to quote Eboo, "to see the other side, to defend another people, not despite your tradition, but because of it, is the heart of pluralism" – and that is a goal for all of us to emulate, even as Eboo puts his faith in the leadership that this next generation of youth will model for us all.
In training programs across literally hundreds of campuses and in many communities, the Interfaith Youth Corp empowers that next generation – your generation – to be those wise citizen-leaders we all need.  And while Eboo's analysis and action focuses on interfaith leadership, we all can see the need for the same inclusive leadership with respect to the many dimensions of diversity and difference that characterize our contemporary social landscape. Indeed, his is a recipe for the many, not the few. 
In recognition, therefore, of the model of informed citizenship and enlightened pluralism that Eboo Patel inspires near and far, at a time when few others lead in that way, and for his many achievements as a scholar, non-profit innovator, public servant, collaborator with colleges and universities, with communities, rural and urban, with service organizations and agencies,  local, national, and global, we are not only uplifted to anticipate his commencement address, but honored to bestow upon him an Honorary Doctorate of Humane Letters.  Eboo, I invite you now to come forward to receive this honorary degree, and to speak to the class of 2017 of Rutgers University-Newark as they too strive to make our world a better, more inclusive one.
Eboo Patel, by virtue of the authority vested in me by the Boards of Governors and Trustees of Rutgers, The State University of New Jersey, I am pleased to confer upon you, honoris causa, the degree of Doctor of Humane Letters, with all rights, responsibilities, privileges, and immunities appertaining thereto.  Congratulations and we look forward eagerly to hearing your words of wisdom for our graduates and us all!