B-STAR Gives Incoming RBS Students a Headstart
Thirty incoming Rutgers Business School freshman put summer vacation on hold so they could get a head start on college classes, forming new friendships and finding their way around campus.
In a ceremony similar to a graduation, they celebrated the end of the 2016 Business Student Transition at Rutgers Program, or B-STAR as it is known informally, and everything they had gained.  
"We will be much better students as new freshman as a result of it," said Paige Johnson, who was chosen to speak on behalf of the Newark B-STARs.
Johnson said the program provided students with an understanding for the importance of networking, developing bonds with professors and advisers and one another. She described it as an "early advantage."
Brian Sanchez, who will attend business school classes on the Livingston Campus, said the program made him realize how fortunate he is to attend Rutgers. "I was quite hesitant about giving up my last summer before college," he said. "What I cherish most is I now understand what it means to maximize an opportunity."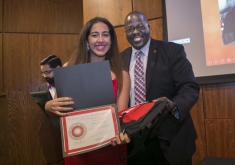 The B-STAR program is for select students who are scheduled to begin attending freshman classes at Rutgers Business School in the fall. The idea is to acclimate them to college life, introduce them to faculty and staff and other students so they are equipped with a support system before they formally begin their college careers.
"Rutgers Business School has a deep commitment to access and inclusion, and that's reflected here today," Charles Brown, assistant dean for diversity programs, told the audience.
"Continue to press forward and apply the principles you've learned this summer," Brown said. "Many of you have formed strong bonds. Hold onto those relationships and friendships."
During their six weeks, the 2016 B-STARS were immersed in their first college courses, spending a total of 464 hours in class, group study and computer labs. They participated in interactive classes about health and wellness, which tackled such issues as mental illness, safe sex and nutrition. Successful students complete the program with six credits toward their degrees.
The students studied and lived together, went on a field trip to New York City and participated in weekly group discussions about news from the Wall Street Journal, which they were required to read during the course of the program.
After the ceremony, Sanchez said the program "got me out of my shell." Through programs and interactions, it made him comfortable sharing his opinions and speaking in front of groups of people.
"It really helped me with my confidence," he said.
B-STAR is a centerpiece of Rutgers Business School's diversity programs, but it is also a reflection of a strategic objective of Rutgers University-Newark to use its resources to make a social impact in the community.
The closing ceremony drew Rutgers University-Newark Chancellor Nancy Cantor, Rutgers Business School Dean Lei Lei and Yaw Mensaw, executive vice dean at Rutgers Business School. The speakers included Diane Ashley, vice president and chief diversity officer at the Federal Reserve of New York who also sits on Rutgers Business School's board of advisers, instructors, resident counselors and Kala La Fortune Reed, a former B-STAR who is now attending Rutgers Business School. Robin Bridges Johnson, mother of Paige Johnson, also provided a passionate parental perspective.
"We are thrilled and honored that our daughter got into this program," Johnson said after recounting their cross-country trips to tour various college campuses. "This is a phenomenal program. There is nothing else like it," she said.
Marcia Brown, Rutgers University-Newark's vice chancellor for external and governmental relations, was the keynote speaker. Brown spoke about the experience the students share and how Rutgers will define their sense of leadership.
"Do not diminish yourself or diminish your role," Brown told the students. "You will decide what the future looks like."
Left photo: Assistant Dean Charles Brown with incoming freshman Ashley Acevedo; photo credit: Karen Mancinelli