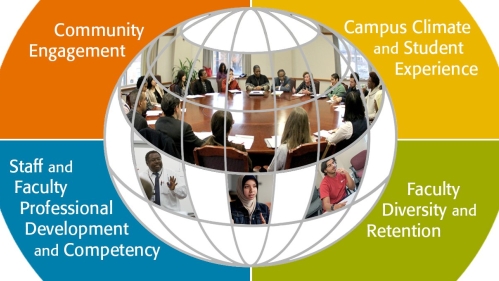 Welcome to the Commission on Diversity and Transformation
Leveraging RU-N's Diversity
Established in 2015 by Chancellor Nancy Cantor, the Rutgers University-Newark Commission on Diversity and Transformation serves as a dynamic and intentional action group focused on institutional change.
The commission aims to generate knowledge and suggest actions to create curriculum, scholarship, initiatives, places, and spaces for both intragroup solidarity and inter-cultural engagement.
With input from students, faculty, staff, and representatives from various RU-N organizations, the Commission has identified four areas on which to focus its initial efforts and provide preliminary recommendations: community engagement; campus climate and student experience; staff and faculty professional development and competency; and faculty diversity and retention. For more about the Commission's recommendations, click here.
Questions and comments concerning the Commission are encouraged to be conveyed via email at info-ccdt@newark.rutgers.edu.
Preliminary Recommendations
The Chancellor's Commission on Diversity and Transformation identified four areas on which to focus its initial efforts to foster a nurturing community of tolerance and inclusion: community engagement; campus climate and student experience; staff and faculty professional development and competency; and faculty diversity and retention. With input from students, faculty, staff, and representatives from various Rutgers University–Newark (RU-N) organizations, the commission proposes the following preliminary recommendations:
Provide financial support to students, faculty, and staff for pursuit of publicly engaged scholarship
Organize scholarly symposia that showcase excellence in publicly engaged scholarship
Offer research development workshops in publicly engaged scholarship
Recognize and reward excellence in publicly engaged scholarship and collaboration
Develop mentorship and peer-to-peer support programs that benefit high school students and RU-N students
Hold an intercultural community-building retreat during the 2016-2017 academic year
Develop intergroup dialogue programs for students, faculty, and staff
Establish a well-trained bias response team
Offer more culturally appropriate food choices on-campus and broaden the pool of off-campus vendors that accept Raider Dollars
Enhance study abroad options for students of all socioeconomic backgrounds
Provide professional development opportunities for RU-N staff
Revamp the orientation process for new employees
Offer GED programs and ESL classes to staff
Create a cultural competency program for faculty, managers, and supervisors
Evaluate cultural competencies of faculty, managers, and supervisors
Encourage more hires of faculty in thematic, interdisciplinary clusters or cohorts
Provide resources and training that enhance and facilitate the creation of diverse pools of faculty candidates
Encourage faculty leaders and stakeholders to spearhead efforts to diversify RU-N faculty across all schools, departments, and disciplines
Create a best practices guide for faculty retention and mentorship at all levels of the professoriate
Establish a summer research institute to promote successful research projects among faculty and students of underrepresented groups
Develop leadership development programs in cooperation with the P3 Collaboratory